Look at the best running shoes for running on concrete floors.
[Last Updated on May-5-2023]
Running on concrete floors may not be the ideal surface to continue running sessions.
The rigid surfaces don't absorb the energy of footfall (when the foot meets the land) and reflect the shock to the joints. These consistent shocks can lead to pain in the back, and knees or may lead to severe injuries.
What are the best running shoes for concrete floors can do?
Investing in quality running shoes can absorb the shock of footfall, leading to less fatigue on the body. Mainly, they are well-cushioned that absorb the shock and defuse it within the shoes before it goes to your joints.
Other than that, The outsole (bottom of the shoe) is ready for hard surfaces, gives long life to the shoe, and can grip terrain better.
8 Best Running Shoes for Concrete (Shock Absorbers +Stable)
However, finding the best running shoe for concrete floors isn't easy as the choices are millions, so we have done it for you.
After a week of research, we found the eight best shoes for concrete surfaces that perform well and fit the bill perfectly. We have shortlisted these eight shoes after a verdict from the shoe owner, who is pleased after utilizing them on concrete floors.
A runner reviewed these after running 50 miles in them, and we describe them in our words.
Some of the shoes may take a few runs for the break-in period, so deciding to return might be quick action. But, if you feel uncomfortable even after a few runs, you can return them and discuss them with your podiatrist. Let's have a look at the best running for concrete floors.
1. Asics Gel Nimbus 25 – Best After Injury
Overview
Asics Gel Nimbus is a popular series, reaching its 25th version meaning successful series.
With all these updates, Gel Nimbus didn't forget where it started. It is still a highly cushioned, maximalist trainer but this time it comes up with a rocker outsole shape. It helps to absorb shocks better and helps you to roll forward naturally for each stride.
Who Should Use It?
The 25th iteration of the Gel Nimbus is a great daily trainer for one who doesn't like much ground. Looking to have tons of cushioning under their feet.
If you are a runner who is searching for a well-cushioned running shoe, that feels plush and luxurious. It's best suited for slow runs and distance running, mainly for easy pace runs.
Who Should Not Use It?
Asics Gel Nimbus 25 might not be ideal for you if you are looking for a minimal less cushioning shoe. It might be too soft and plush for you then.
Also, The toe box is normal to narrow so if you have a wide foot, it might not offer the best fit for you.
Lastly, The weight and price of this shoe are a bit higher end, so if you are looking for light-weight and budget shoes, it might not be ideal for you. (look at the what is the average price of running shoes)
Is it Best for Concrete Floors?
ASICS Gel-Nimbus 25 can be a great option for concrete floors because of its rocker shape bottom and highly cushioned design. high heel drop, PureGel insert, and FF Blast+ Eco cushioning. All the features contribute to absorbing shocks from the ground making landing smooth no matter how hard the surface is.
Also, The outsole has additional support in key areas, making it highly durable and resistant to wear and tear. It means it'll last longer than most daily training shoes. The smooth outsole provides average traction, making it suitable for wet pavement, smooth trails, and more tough surfaces.
Updates From the Previous Version
Whats Get Good
Updated midsole with a higher stack height and lower heel-to-toe drop for a more comfortable and consistent ride.
Gel cushioning is removed from the forefoot and strategically placed at the lateral part of the rearfoot as PureGel technology, providing better shock absorption for heel strikers.
What's Get Bad
Price: With all the premium updates, the cost of this version reaches a higher-end price for running shoes.
Check Price
Why We Like it
Most comfortable and supportive
Great Shock Absorbers
Rocker bottom
Why We Dont Like it
The Upper is not much breathable
---
2. Brooks Ghost 15 – Best for Everyday
Overview
The 15th version of the Ghost series comes up with a luxury upper and an updated midsole "DNA loft v2". It results in a firmer yet more comfortable ride for most neutral runners.
Who Should Use it
The Ghost series is one of the most selling running mainly for its versatility. Excel fast pace running, can be handy for any type of run no matter what the surface is.
It is a great shoe for beginner runners, who wanted to do a little bit of everything, from walking/jogging and even for marathon races, cross-training, for those who stay on all day on feet.
Who Should Not Use It.
The Ghost 15 is a traditional daily running shoe, so if you are looking for a more bouncy, or modern ride. it might not be ideal for you.
Is it Good for Concrete Surfaces?
The reason Ghost 15 is best for hard surfaces like concrete and asphalt is its outsole rubber. It is heavy rubber that covers most of the outsole except the midfoot and some parts of the center of the heel. The rubber is made of material that feels thick and soft. Due to softness, it contributes to better landings leading towards pain-free runs on surfaces like concrete.
What to Consider
The Design is not very fashionable, just a typical-looking running shoe.
The tongue is not guested.
Compared to the previous version, its weight and cost more than the previous version.
Check Price
Why We Like it
Great lockdown and secure fit
Great multipurpose
Cozy upper
---
3. Asics Gel-Venture 7 – Best for Trail
Asics Gel-Venture 7 Review
Want to run at an adventures surfaces? The Gel-venture 7 is ready to offer without paying much.
It is famous for its solid durability, adequate cushioning, ability to absorb shock, and affordability; under 100 running shoes for concrete.
Who should use it
Gel-Venture 7 has the same build that is of other trail running shoes. It locked feet in a secure way and breath well even with a snug fit.
They are ideal to cover short to medium trail and hiking-running experiences. Expert says that you want a shoe that covers 5 to 10 miles on rugged surfaces. They are solid for that.
They are a bit slippery on sandy rock terrain otherwise runners have no complaints using them after using surfaces including gravel paths, forests, sandy rock, and dirt tracks.
Why are the best shoes for concrete floors?
The outsole material is the mainstream in this model. It has a full-length rubber outsole with "V-shaped" grooves that last long and grip on most surfaces
It offers Gel technology in the forefoot and rearfoot which absorbs shocks throughout the shoes. This gel technology features relieve the foot and knees from aching and protect us from future injuries.
What to Consider
ASICS always has an option to use removable insoles but not in this version.
The flat nylon laces are slippery, making them hard to tie tightly
The shoe life is 10 to 12 months.
Why We Like it
Feels great, no pressure points
Budget-friendly model
Solid lockdown
---
4. New Balance 1080v11 – Best for long runs
New balance fresh foam 1080v11 Review
New balance fresh foam 1080v11 offers a demanding feature that various runners seek in their shoes. A breathable upper with a snug fit, premium cushioning, and solid support. What else is left?
From the looks, they have an appealing design that is ready to wear casually to have a cup of coffee with mates.
Who should use it
The model focuses on comfort instead of performance. After running a few miles. the "springy midsole feels a bit unstable." If the primary concern is comfort, it's a great choice but if you need it only for running, you may require time to get used to it.
However, They are ideal for most runners such as slow and easy-paced runs, daily walking/jogging running, shoes, and similar alike.
Whole-day comfort: The model is the right choice for workers who spend most of their time standing. Need comfort for standing long enough on concrete floors, it is a great choice.
why its best
The reason for being it best for concrete floors is heavily cushioned and has a bouncy midsole. The fresh foam X offers a bubbly ride yet is stable to go for miles and miles.
The blown rubber outsole offers great traction on most surfaces and adds life to the shoe. Either it's made up of all blown rubber but still, flexes on the toe off due to strategically-placed flex grooves. Experts like runningshoesguru have mentioned that they were a bit "audible when running on concrete and asphalt surfaces".
Engineered mesh upper is pretty wide and stretchable and breathable. If you have wide feet, they can stretch a bit to meet your desired fit and are breathable for hot weather.
What's get good
The ride it offers is a firm one compared to the previous version. The previous versions offered a mushy experience. but now it's a great balance between comfort and support.
The Upper is more breathable due to many ventilation holes. it gives 2 advantages. 1- more airy 2- Much lighter than v10. Lightweight shoes can help you in running faster.
What to Consider
No heel tab or finger loop for on and off.
No Padding around the feels less secure.
A bit loud on the concrete surfaces annoys sometimes me when running without headphones.
Why We Like it
Beautiful color choices.
Feels like walking on clouds
Upper hugs the foot comfortably
---
5. Asics Gel Kayano 27 – Best for Overpronation
Asics Gel Kayano 27 Reveiw
If you want me to describe it in one line, It'll be "neutral stability show with cushioning."
Imagine a shoe that offers a snug fit, surprisingly plus, a bit lightweight but durable that can go for miles and miles. It is a flagship trainer that absorbs shocks due to gel cushioning and helps with fixing overpronation.
Who should use it
A premium stability trainer that is built to last. It made slow-paced easy running easy for overpronating runners.
If your foot rolls inward as you walk, you need to check out this model if you are not on a tight budget. It offers features that add price to the shoe, but each offers technology that works in real.
However, the ride it offers is perfect for easy-paced running, where you'll be able to run fast if you wish to.
Who should not use it
if you want to run fast
If you need natural shoes
Why Best shoes for harsh pavements.
To protect your feet from running on concrete floors, it offers gel cushioning with foam that absorbs shocks better and provides a pain-free running experience. Also, the insoles are removable so you can use custom.
Other than that, It has many technologies going in these stability trainers. The most inspiring one is 2 different foams in the forefoot and rearfoot.
It utilizes flyte foam light, and flyte foam propel to make the running experience fun and absorb shocks better.
Flytefoam light is a denser foam that makes the shoe responsive, and it is injected in the rearfoot section. And, The flyte foam propel is a springy and bouncy foam that is utilized in the forefoot section.
The outsole utilizes AHAR rubber, the most durable material. It grips the surfaces well and delivers energy return which contributes to a pain-free running experience.
What Get good
The previous version was not stable as this one. It has pronation support and keeps the knee align much better than version 26.
More stylish and comfortable than my

previous

Kayanos.
What to Consider
Wide-foot runners were always satisfied with the previous version due to the large toe box. But, with this update, ASICS has shrunken the size of the toe box. Duck foot runners have to return despite ordering "4E" (extra wide).
The toe box gets 

crinkled

up which looks weird. It doesn't affect the performance but looks awkward.
Why We Like it
Can't be more stable than this
More cushioned than previous versions
Durable running shoe
---
6. Brooks Glycerin 19 – Best For Neutral Runner
Brooks glycerin 19 Review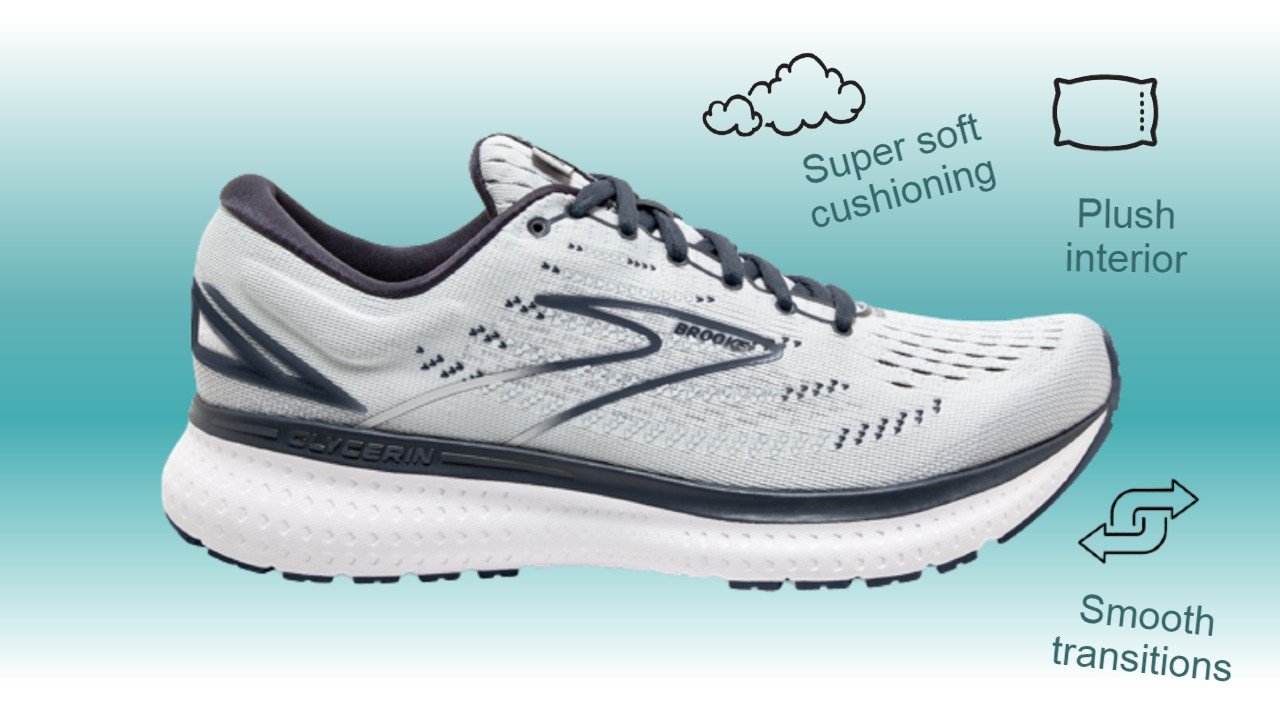 When it comes to offering comfort. Brooks has glycerin series at the top. They are even a big brother of the "Ghost series" that excels in the comfort category.
The way our cushiony pillows release all the stress right after laying down. The glycerin does the same right after wearing it. If you want comfortable shoes that'll go for miles, grab them.
Who should use it
If you want a single shoe to cover most needs, the choice is simple. "The Glycerin series." With 100% DNA LOFT midsole, they are more softer and versatile than any other brooks shoes.
From casual daily road running to distance marathon runners, one can benefit from it.
It is also an excellent choice for some on their feet all day. Many nurses and workers who work on concrete floors claimed that it offers great support and makes standing for 12 hours on the concrete floors easy.
why it's best.
The Glycerin 19 is a naturally high cushioning shoe that uses 100% DNA Loaf foam with additional foam compared to the previous version which increases comfort.
It's great for most occasions due to its soft cushioning, and internally padded interior, that stays smooth with each step.
The blown rubber outsole contributes to the soft ride of this model. Some say: It's a bit slippery under wet conditions and may not provide the desired grip in rainy seasons." But, The durability is much better than other shoes and can go up to 500 miles
What's Good
The insole is removable so you can use custom for better arch and heel support.
Well-padded from everywhere that feels luxurious after finding a sweet spot in lacing.
What to Consider
Most of the weed feet runners don't like this update as this time it's narrower in the toe box. It is still a great shoe for narrow and normal feet but not for wide feet runners.
Why We Like it
No pain after 8 hours of standing
Cloud feel comfort
Soft landings contribute to shock absorption.
---
7. Asics gel Contend 7 – Best Overall
Asics Gel contends 7 Review
ASICS Gel Contend 7 is a budget-friendly running shoe that provides every feature that premium shoes have; under 100 shoes for concrete.
Well cushioned from all around, padded tongue, gel cushioning, and foam ready to absorb the impact of harsh pavements at a lightweight.
Who Should Use it
contend 7 offers a fresh design, that keeps everything in balance and allows us to use it for miles and miles for various occasions. If you are a normal runner (nothing extreme) who would like to go for a daily running/walk/jog on either treadmill or at parks. also, for gym weight lifting and cross training.
If the above utilities sound familiar to you, the gel content is an outclass running shoe for you.
Who should not use it:
We tried our best to clear everything above that where you should use it, so if the requirements sound similar, they are for you. But they are not for you if:
You want a shoe for marathon races.
You want to use it for trail running.
You want to fix extreme overpronation.
Why best running shoes for concrete floors.
These affordable running shoes offer three technologies that work for shock absorption and relaxing your feet.
The "GEL technology in the heel for shock absorption and contributes to soft landings," "durable AMPLIFOAM midsole offers comfort and flexibility," and "OrthoLite sock liner for moisture management."
The heel cup offered a secured ride while locking your foot in the same place. Overall, the comfort is outstanding, and you'll end up on your ride with no pain and achy legs.
What's Get Good
Supports more weight: One thing that got really good with an update from version 6 to version 7 is if you are a heavyweight runner, it'll support your body better than previous versions. One runner who ran in content 6 said that it was not able to hold his body of "145kg" but in this version can handle this weight effectively.
What's get Bad
The toe box is narrow: Really don't know if it's a con or not but, the " Breathing mesh on the outer part" was too wide in previous versions. It was great for runners who had wide feet. but, most wide-foot runners order the same size in contend 7, and feels limited and snug. ASICS has updated the top with a narrow cut. for wide foot runners, who like more space in the shoes, go for a half to full-size up.
Why We Like it
Great value for money
The heel cup keeps the shoe stable
Gel in the rearfoot improves shock absobtion.
---
8. Saucony Cohesion 13 – Best Budget Model
Saucony Cohesion 13 Review
Saucony Cohesion 13 arent a very advanced running shoe for extreme running. They are not for trail running, nor to help with pronation. but comfortable, lightweight, and natural running shoes for neutral runners.
Who should use it
Whole day comfort
daily morning walk/jog
Gym training
Why for concrete surfaces?
The outsole rubber is thick, which is perfect for running/walking on concrete floors. It offers a durable thick rubber with flex grooves which adds flexibility and adds life to the shoe.
The tongue heel and collar are exceptionally padded, which adds comfort and feels beautiful after finding the right spot in lacing.
Above all, the ride is a balance between firm and mushy; it is medium soft stays comfortable for short runs, and allows you to run faster if you want at any point.
What to Consider
The insoles are thin it started to hurt my feet after running a few hundred miles of walking and jogging. The good part is that the insoles are removable, so if you need more support use dr schools and they'll be much better.
These are unsafe on wet floors. they get slippery. so not for rainy weather.
Why We Like it
Light and comfortable.
The heel and collar padding feels good
Soft landings.
---
How To Select The Best Running Shoes for Concrete & Asphalt Floors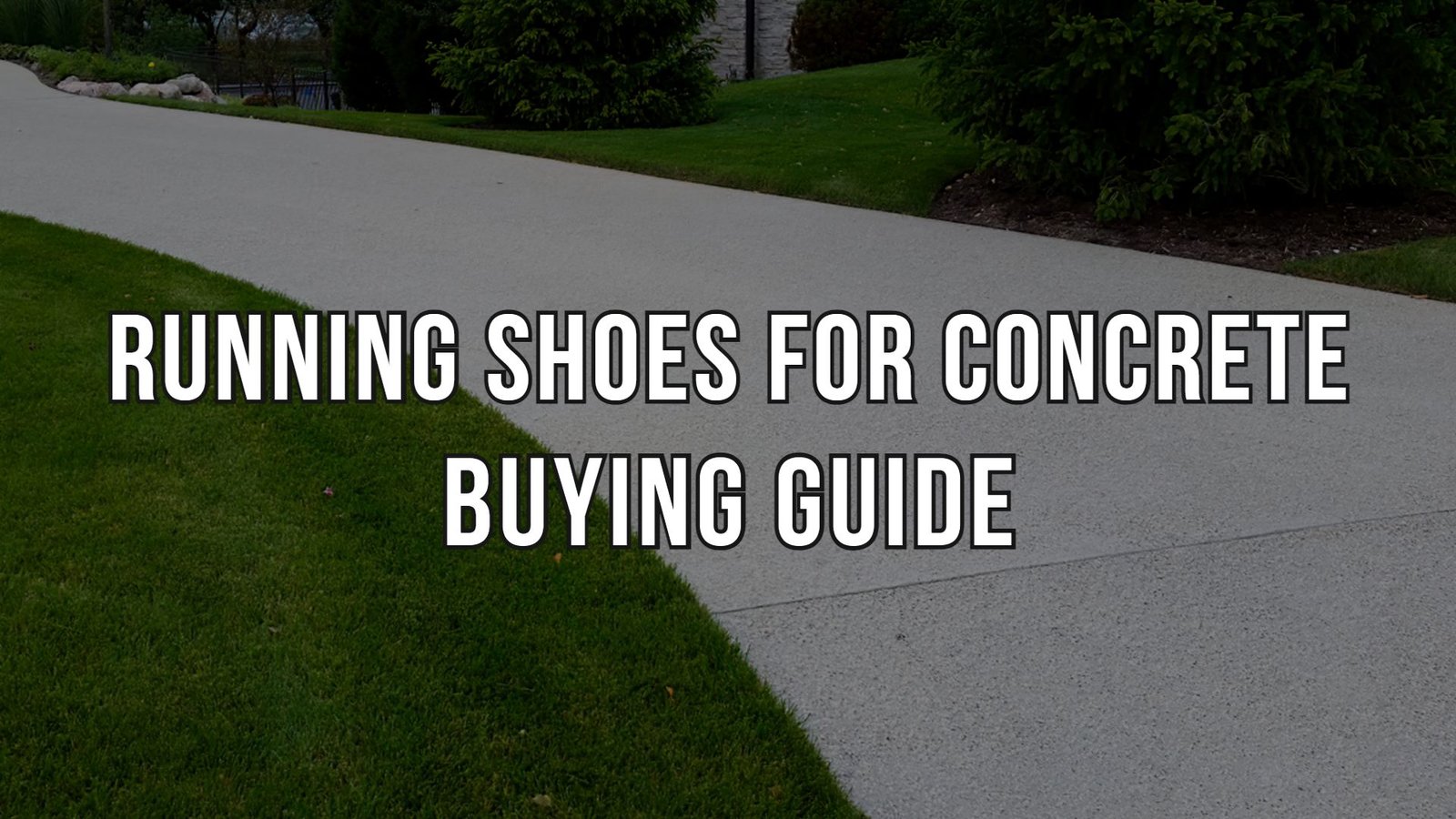 When purchasing running shoes for concrete floors, there are several factors to consider in order to ensure comfort, and safety, and stay away from running-related injuries
Here are some important features to look at before purchasing running shoes for hard surfaces.
1. Cushioning
Better comfort might be the first thing you need to hop for. When running on hard surfaces like concrete it absorbs much less impact of footfall leading to more pressure on joints.
Running shoes with ample cushioning in the insole and midsole can help absorb shock and reduce the impact on your feet.
2. Outsole
The most important thing to consider when purchasing running shoes for concrete floors is to have a solid sturdy outsole. But, the rubber should be a soft one. This will help in making your running shoes last long, also in better shock absorption, and as well as more traction.
3. Arch Support
Shoes with good arch support can help distribute your weight evenly and reduce stress on your feet, legs, and back.
4. Breathability
Shoes that are breathable can help keep your feet cool and dry, which can reduce the risk of blisters, odors, and other foot problems.
To get the best running shoes for concrete, you need to look for one that comes with an extra-thick sole. This will cushion your feet from the hard concrete floor. You should also look for a shoe with good support for your ankles, knees, and hips. Also, look for these options
5. Weight of the shoes
These shoes can be overweight as the amount of cushioning in them. Maximum cushioning can add weight to the shoe, but it is not a problem here as we are looking for comfort and shock absorption for our feet.
The extra padding reflects the weight of the shoes but may diffuse most of the shocks within the shoes before it goes to your joint.
Look for how much running shoes weigh.
---
FAQ's
Q:1 Is running on concrete bad for knees?
Running on concrete or other hard surfaces might be good for your legs or harmful depending on your joint condition.
If you are prone to injuries or then choosing a concrete floor as a primary option for running can be problematic.
Other than that, It is great to strengthen your legs and knees. The concrete surfaces are harder, you develop a tougher foot and a stronger Achilles tendon. (see best running shoes for Achilles tendonitis)
The action of landing on a hard surface and then driving off forces you into a more efficient running form. Running on concrete is a lot more comfortable than running on asphalt.
The softer surface of asphalt is more likely to cause injuries. You run on the concrete barefoot, so there is no risk of you hurting yourself with the toe box of your running shoes.
Q:2 Are running shoes good for working on concrete?
It depends on what type of running shoes you are using. If you are using shoes with hard rubber soles, then they may not be suitable for working on concrete.
Working on concrete surfaces makes the rubber soles hard and more brittle which can lead to cracks on the soles. If you are using shoes with soft rubber soles, then they are absolutely fine for working on concrete surfaces.
Best running shoes for concrete floors: Final words
It doesn't matter if you run on the pavement, the sidewalk, or the track; you need to make sure that your running shoes can provide the support and cushioning that your feet need.
If the ground you run on is particularly hard or uneven, you may need a pair of running shoes that are made for running on concrete! In this blog post, you will find a few of our favorite running shoes for concrete surfaces.
A good pair of running shoes is one of the most important purchases you can make if you're a runner. You want the shoes to have the proper support, cushioning, and durability for your feet.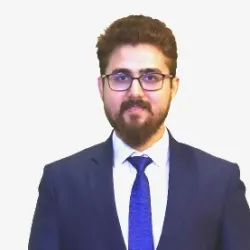 I'm Shafey. An avid runner since 2012. I am one of few people who like doing cardio instead of muscle building. I love spending time on treadmills, tracks, pavements, or any surface rather than exercising with dumbles.
With all those years of experience and spending the whole night reading blogs and researching different concepts of running. Learned a lot about new tips and tricks. In those years tried different running shoes (from $ to $$$).  I got a great knowledge that can be shared with others. I may not be a professional running coach but YES an experienced runner who can guide right to beginners.✌️✌️