Just had a knee replacement surgery? you are not alone! According to research "It becomes a routine and surgeons in the US only perform nearly 600,000 knee replacement surgery each year". but taking care of each step gets essential to avoid early failure of the surgery. For now, let's look at the best shoes to wear after knee replacement.
There are many dos and don'ts that you must ask and your doctors should tell after the procedure. Read for the precautions online to get the most out of it. One thing to understand is to avoid having excessive pressure on the knees.
For example, Running after knee surgery is not okay but walking is good. Low-impact exercises are essential to gain the strength of the knees but deep down squats can break the situation.
First 6 months after the surgery might be the conscious time where you should be learning a lot of new tricks, dos and don't about it. but, after it gets usual. you'll be fine with it and taking care of it like the rest of your body parts.
Do you need new shoes after knee replacement?
It is good to be more concerned about your wearing after knee surgery. from wearing loose pants and comfortable shorts to arch-supported shoes. Each will work together in relaxing you to give you a better life until your body accepts the artificial joint (prosthesis).
If your old shoes are in good condition, meaning the outsole is offering good grip, the cushioning condition is in shape than it is absorbing shocks and they are arch supported. you may don't need new shoes. but, if this part is missing, you might have to invest in a good comfortable walking shoe.
You'll be required to invest in a shoe that has these three features:
Arch support
Shock absorption cushioning
Good grip
For a complete buying, scroll down to the end and before the "FAQ" we have written the complete buying. but, in short, Arch supported shoes are required to create to support your body while standing or walking. It can offer the required support for every step.
Similarly, shock-absorbing cushioning is required for comfort and the ability to diffuse the impact of footfall within the shoes before it reaches the knee joints. and lastly, a good grip to avoid falling down.
8 Best Shoes to wear after knee replacement.
It might be complicated to make a choice on the best one as the choice are infinite. There are several brands and each brand has thousands of options. These so many options will definitely confuse a new buyer to decide which one to go for. so for that, we have already done some research for you.
since last week, we were researching for the best shoe to wear after knee replacement and came out with these options. We tried to be easier on the words so individuals can understand easily. also, we have linked the verdict of the shoe owner who utilizes it after the surgery and had great results. With each review, we have given our reason on why it is best to wear after knee replacement surgery.
Let's look at our recommendations for the best shoes to wear after knee replacements.
1. Skechers Women's Go Walk Joy
Shoe Specifications
| | |
| --- | --- |
| Size | True to size |
| Weight | 150g |
| Best Use | Full day comfort,  traveling, and walking. |
| Features | Lightweight and cushonined. |
| Price | $ |
The Skechers GOwalk joy might not be the first time you hear them. Try a bit searching for the best walking shoes for women or comfortable walking shoes. and, they must appear there.
The Skechers aim the right strategy by putting comfort and style at once, making a choice for everyone.
Best for
They are ideal to wear on most occasions. The design hits a good spot between fancy and dull. From office wear to daily wear or as a walking shoe, it is an option to consider.
The beauty lies in their 5GEN midsole. it adds a soft yet responsive ride that offers great underfoot comfort. The model is well-appreciated by the nurse. if your requirement is to walk or stand for up to 12 hours, grab'em.
Why the best to wear after knee replacement shoes
The thing we like about the shoe is its simplicity. it looks simple but demanding features at a very lightweight.
The upper material has tiny holes that keep the shoes as light as possible. also, these holes allow the air to pass throughout the feel.
The midsole offers impact protection cushioning for each step you take. it doesn't allow you to get bored easily but offers a fun yet protective ride.
At last, but very important. you don't have to put excessive weight on the knees just to knot them. they are simply like flip-flops. enter footstep and have the joy of walk.
Above all, the heel drop is minimal. The higher shoes add more pressure on the knees. It lets you land on your midfoot, keeping your knee free from stress.
Size and fit
After surprising the wearers from the comfort and quality GOwalk joy doesn't disappoint on the fit as well.
The pair is available in 3 widths including standard, narrow, and wide fit. However, Our recommendation will be to go natural to your size. The midfoot is wide and the toe box has space that won't be any limitation.
Also, the pair is ready to enjoy from the first wear and doesn't require time to break in.
---
---
2. Saucony Switchback 2 trail running shoes
Shoe specifications
| | |
| --- | --- |
| Size | True to size |
| Best for | Walk jog and running |
| Best surfaces | road, Cindy trails, and hard surfaces |
| Drop | 4mm |
| Weight | Men 250g | Women 220g |
| Price | $ |
Our Verdict
Saucony switchback 2 is an update from the prior version where the most part is the same but a few changes.
The change in the midsole leads to better comfort and shredded some pound. and, the reason for its fame BOA lacing system is still in this version but moves a bit.
Best for
The switchback 2 is a minimal trail running shoe that offers a lot of ground feel with a secure fit. The design is neutral and responsiveness from the midsole makes it the choice for most wearers.
From packing up the speed on tracks to as a work shoe or just a daily walking shoe, it is a choice for everyone.
The model might not be the lightest but most lighter than a typical trail running shoe. The construction and secure fit from the BOA lacing system allows taking more steps as it gives them the confidence to walk.
furthermore, it can be utilized as your work shoe or even on concrete floors due to nylon plate (that flexes) and solid durable rubber outsole. it gives a good grip on rough surfaces and is built to last.
Why the best shoe to wear after knee replacement
The model is best to wear after knee surgery due to its BOA fit lacing system. This type of lacing technique will give you the desired fit whenever you want. It's easy to on and off, just step inside the feet and rotate the lock until you find a sweet spot.
This lacing system is specifically good after knee surgery or if your feet tend to swell. The feet swell even after Knee surgery so it'll be easy for you to loosen up by rotating it anti-clockwise and you'll have more space in the shoe.
The 4mm heel drop is ideal leading to less stress on the knees and focusing on a more natural ride. Also, The insole is removable so if you're a high arch and want to use custom orthotics you can do so.
The hook at the tongue and on the back allows you to open it so you can wear it with ease.
Above all, the solid heel lock secures each step and gives the confidence to walk. It doesn't allow to make unnecessary movement inside the shoes.
Size and fit
The product is marked as "true to size" but seems for Saucony users only. If you are ordering the first shoe from this brand, our recommendation would go a half size up.
---
---
3. ASICS Gel-Contend 7 Running Shoes
ASICS Gel-contend 7 is a cute-looking running shoe that looks like a casual sneaker but has all the benefits of orthopedic shoes.
The ride of this shoe is natural and ready to take you miles and miles without much pressure on your lower body and achy feet. the best part about the model is all the features don't affect the price; under 100 running shoes after knee replacement
Best for
ASICS Gel contends 7 offers all the demanding features and the best part is without making price a hype. It's an optimum and a must-consider option for beginner runners, daily walkers, or one who wants to do a little bit of everything.
It offers great stability from the heel cup that is perfect for neutral and supinating runners. If you want a stable heel that gives a great lockdown and a secure ride, consider this.
The midsole AMPLIFOAM is a foam for everyone, meaning, it offers a medium-soft ride that hits a sweet spot between firmness and responsiveness that works for most runners.
If you wish to go slow for your easy pace days or to pick a pace for uptempo runs, it'll be a choice for everyone. One reviewer said, "They are a jack of all trades but master of none."
Best Running shoes to wear After Knee surgery
Can I wear Asics gel contend 7 after knee surgery? Yes! you can. Now, let us tell you why it can be your specific shoe to wear after knee surgery.
Most importantly, these cute puppies come with a great shock absorption power. A silicon-based gel in the heel is present to defuse the shocks that we get from running and walking.
The heel is higher than the forefoot (10mm difference) lets a heel to strike, where the gel is present to dampen the effect of footfall. if you land on heels, look at other best shoes for heel strikers.
The full rubber outsole grips the ground well, minimizing the chances of tripping down. Falling down and tripping is another big concern after knee surgery. and, the gripping power of the gel contend is enough that one can rely on. It can grip flat to a bit unbalanced or slippery surfaces.
The only con you might have to face in them is tightening laces. it can cost additional pressure on the knee while tightening them but if your knees are powerful enough, it should be an option to consider.
Size and fit
The model is true to size according to a variety of testers. and, most of them have no issues. the toe box has enough space to jiggle your toes and the midfoot is wide. Our recommendation would go natural to your size and you'll meet the desired fit.
Also, if your feet are wide than natural, go for a wide size. this specific model comes in standard and a wide fit, so choose according to your foot type.
---
4. Skechers Mens Equalizer Persistent Slip-On Sneaker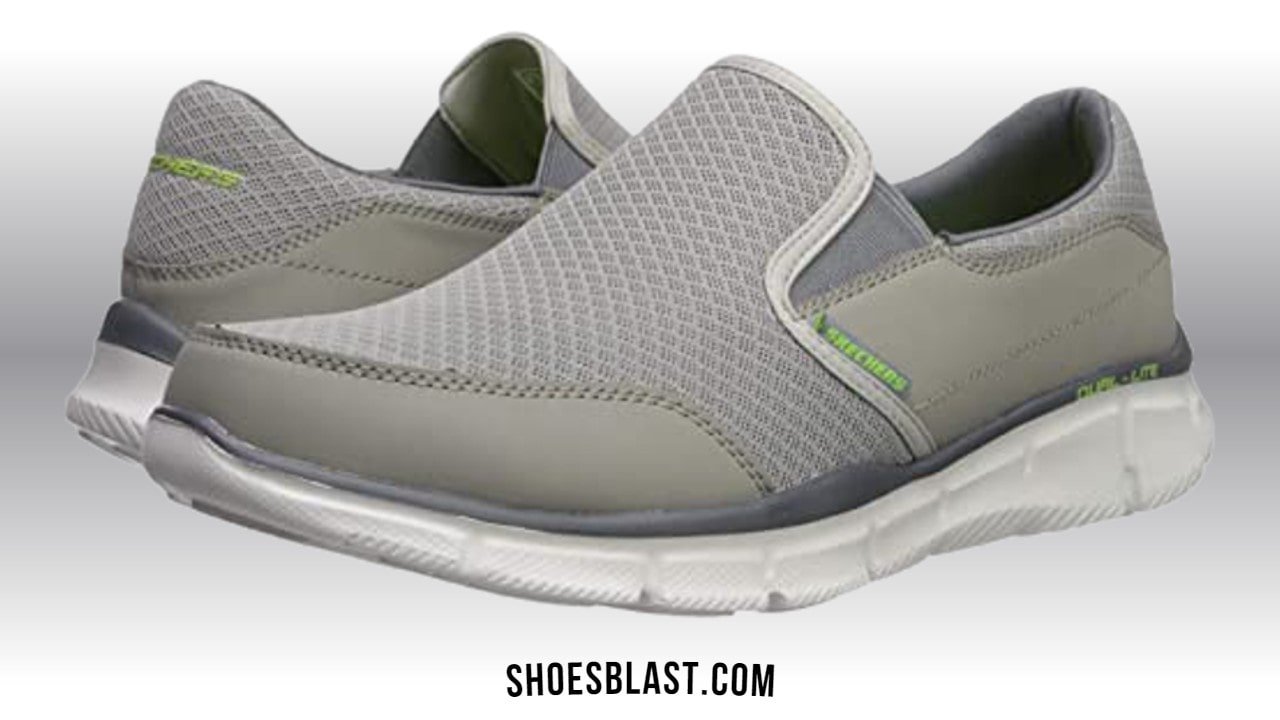 Shoe specification
| | |
| --- | --- |
| Size guide | True to size |
| Best for | Walking, travel, and whole day comfort |
| Features | Lightweight and breathable |
| Price | $ |
The Skechers is a hot brand when it comes to providing quality and durable sneakers. It is one of the fastest-growing footwear brands in the US.
The specific model also receives a bunch of applause from men as it is designed specifically for men's feet and is only available in men's size. If you don't want to spend the whole night researching the best walking shoes for sensitive feet, our suggestion will be to give them a chance and you'll get what you want.
Best for
Skechers is a slip-on sneaker that is extremely easy to wear and comfortable for hours and hours. It can be a choice for anyone who walks. They are a bit head up in terms of comfort, durability, and providing support compared to other slip-on sneakers.
Since it is a choice for everyone, one who has a job of standing most of the time, wants comfortable traveling shoes, or simply needs a pair to walk with ease. It offers everything and the best part is by staying under the 50 limit.
The memory foam cushioning offers a plush footbed that gives calming vibes from the first wear without compromising on security. The cushioning is even comfortable for 300+ lbs man. He said, "feels like walking on about an inch of memory foam and is very comfortable."
Also, the design hits a sweet spot between fancy and dull and can easily be matched with an office get-up and even with a tracksuit.
Best shoes for men after knee replacement
The model is famous for three reasons. Lightweight, comfortable, and support. and these three are demanding features and recommended by podiatrists to wear after knee replacement.
One thing to remind is no brand ever made specific shoes to wear after knee replacement. it's only that these shoes are well in those categories that one seeks after surgery.
The open design is easy to wear like a flip flops and is made of stretchable material so it'll adopt the shape of your feet. Comfort from memory foam cushioning is next to none. Internal padding and heel support give the confidence to walk.
See the review of one who wears after knee surgery.
Size and fit
The specific model is available in different widths and stays true to size. just order according to the sizing chart and you'll get the desired fit like most of the wearers.
It doesn't require any break-in time meaning, it is ready to offer all the benefits right out of the box.
---
5. Adidas Cloudfoam Running Shoes
Shoe specification
| | |
| --- | --- |
| Size | True to size |
| Best for | daily uses, walk and run |
| Closure | Slip-on, laces |
| Feature | Lightweight and breathable |
| Price | $ |
Our Verdict
Adidas is a successful brand whenever shopping for comfortable running shoes. The company was in the industry from the start that it knows the demand of their fans. and, each model has something interesting to love with.
The Cloudfoam running shoes is celebrity-loved shoes and it is one of the most purchased running shoes online. The model is specifically famous in women due to its cute style and women's specific fit. They are cute, comfortable, and very breathable.
Best for
The Cloudfoam as the name applies offers cloud-feel comfort, like walking on clouds. It is a choice of daily runner, walker, or someone that needs a cute feeling every time they step in the shoes. It feels like you aren't wearing anything without compromising support.
Besides comfort, the midsole offers a springy and bouncy feel that helps in taking more steps without tiring quickly.
They are ideal daily average person needs. Someone looking for a comfortable yet stylish pair of shoes to cope with daily walk/jog and run. The running doesn't mean full marathon races but to keep them for 5ks and max 10k.
Also, if you want a single pair that helps with weightlifting, cardio workout, and similar basic needs, you are spending on the right product. A few users mention that they utilize it on badminton courts and it offers a great grip on the court.
Why it is best to wear after knee replacement surgery
A pair of running shoes has the most recommended features that podiatrists consult to look for in the shoes. But, due to heavy cushioning in them, it spikes their weight and will be additional stress on the lower body.
The Cloudfoam uses the right methodology by offering everything of running shoes but keeping cushioning natural so their weight could be less. This technique receives love from worldwide and makes it FAV for versatile users. They are naturally cushioned and offer comfort and support yet are affordable.
The Knit mesh upper (with tiny holes) keeps the feet cool by maintaining a good ventilation system. and, minimizes the weight of the shoes.
They are easy to wear and the horns at the back and above the tongue make them easy to wear. Also, they are slip-on. The laces are functional in the sense that they can make the shoe tighter if your foot is very narrow but it's really not needed.
Size and fit.
Our survey says that the model stays true to size in most cases. Our suggestion will be order according to your natural size and you'll get the desired fit
---
---
6. Brooks Ghost 13 Running shoes
Shoe specification
| | |
| --- | --- |
| Size | True to size |
| Best for | slow-paced easy running, whole day comfort |
| Features | Most cushioned and stable |
| Weight | Men 286g | Women 250g |
| Price | $$ |
Our verdict
Brooks Ghost 13 is a highly comfortable shoe and its comfort is the reason for its fame. It might be the highest purchased neutral running shoes in both men and women category.
Comfortable cushioning, secure lockdown, and durability are the mainstream of this model.
Best For
The 13 version adopts the same concept as the previous ghost series but with a few changes. In this version, it comes with full DNA loft throughout the midsole, and previously it was mostly in the heel and most part is all the same.
This change results in a more smooth and soft ride that makes them versatile running shoes. Ideally, it is for runners who wish to run at slow to med paced for longer distances. They are famous for covering full marathons.
Since it provides a great level of protection and stays comfortable for hours and hours, they are more famous as nurses for someone who stands long enough. If you have a job that requires you to stand for 8 to 12 hours, utilize them and you'll come up with that money spent at the right place.
It offers a combination of DNA Loft and a BioMoGo DNA foam. It hits a sweet spot between softness and responsiveness and offers long-lasting cushioning.
Best after knee surgery
If you have a budget of over 100 for a shoe, our strong recommendation would be to spend on it and you'll get a couch feel comfortable shoe. The uppers wrap the entire foot like a blanket in winter.
The heel, tongue, and collar are separately padded that wrap the foot entirely and hug feet from everywhere. Apart from comfort, stability is essential when purchasing shoes after any surgery. Also, it is categorized as shoes for neutral feet but offers great stability from its heel cup.
The heel counter adopts the structure of your foot and keeps the feet locked in one place without feeling restricted. after finding the sweet spot in lacing, it minimizes the chances of slippage and falling down.
See the reviews of a runner who utilizes it after knee replacement surgery.
The midfoot is wide enough and is considered a wide toe box running shoe. A wide midfoot area is helpful after knee surgery because the foot tends to swell when we start daily life after the surgery. so a bit wide midfoot is helpful in creating space if the foot swells a bit.
Size and fit
The best part about brooks is that it gives so many sizing options that one will definitely get the right size. Our suggestion will go natural to your size and you'll like the desired fit like most runners.
The specific model is available in 3 widths including narrow, natural, and wide size. These options are available so you can make a choice according to your feet type.
---
7. ASICS Gel venture 7 Trail Running
Shoe specifications
| | |
| --- | --- |
| Size | True to size, but a snug fit |
| Best for | trail and hiking |
| Weight | Men 300g / Women 251g |
| Heel to toe difference | 10mm |
| Price | $ |
Our Verdict
ASICS Gel-Venture 7 is solid and made of bomb-proof material that is in demand whenever traction and durability are in demand. It cost like a casual sneaker but offers the feature of trail running shoes.
It is one of the most purchased running shoes online from Asics so far. and, the reason for its fame is well-constructed material, its ability to absorb shocks, and affordability.
Best for
They are ideal for beginners seeking off-road shoe activities such as hiking and trail-running. The "V-shaped" durable outsole grips gravel paths, Cindy trails, forest, and technical dirt tracks.
If you are looking for average hiking or trail running shoe, you may won't get anything better in this price frame.
They are moderately cushioned and the cushioning is more on the responsive side rather than plush. meaning, it returns energy whenever your foot meets the ground and it'll not be dead under your foot.
After comfort, traction is an essential feature for any trail shoe and it offers a medium-level grip for most unbalanced tracks. if we judge them price-wise, we are getting more than we pay for. One reviewer said that: "it has all the premium features, so if you want to taste a premium shoe and don't have a budget, The gel-venture is a good demo for it."
Best shoes to wear after knee replacement
Asics gel venture 7 is recommended to wear after knee replacement due to many features. Mostly, its shock-absorbing features and the ability to grip the ground.
Since they are trail and hiking shoes, meaning, it is meant to grip harsh surfaces. One might be more concerned about falling down and slipping after TKR so this much trapping power can eliminate the risk of tripping out.
The cushioning has it on a responsive side, so you'll be getting a lot of shock absorption. Also, a patch of the gel has also been inserted at the back of the shoe. The heel is a bit higher than the forefoot, meaning the heel is the first thing making an impact with the ground, and the gel patch is ready to absorb shocks.
Above all, it comes with a removable ORTHOLITE sockliner that contributes to comfort and energy returns.
Size and fit
The toe box seemed narrow just like other trail running shoes. Most wearers agree on the fact that it offers a snug fit. Our suggestion will be to go natural to your size but offer a wide fit. It is recommended to have more space in the shoes after Knee replacement surgery and a tight shoe can contribute to pain.
---
8. Brooks Addiction Walking Shoes
Shoe Specification
| | |
| --- | --- |
| Support |  Max Support |
| Best surface | Can grip any surface including slippery surfaces. |
| Weight | 14.5oz |
| Arch | Medium, High |
| Experience Type | Cushion |
Brooks men Addiction Walking shoe is a beautiful thing to have. The manufacturers have designed these shoes especially for people who suffer from chronic pain. Also, these shoes will comfort and fix the feet in place to avoid any injuries or strain in the future.
The designers have added MC pod technology in the outer sole by creating a high heel. This high heel is comfortable with no aching at all. Also, you can walk just like you do in a flat slipper because the outer sole weighs less.
So, this will not tire your feet and, you can cover long distances. Also, the material is entirely eco-friendly. And the rubber of the outsole is reliable with no worn-out problems. This high-heel outsole is bumpy rubber to grip the road and to make your feet' movements easier. You can easily curve or bend your feet and there will be no cracks on the outer sole at all. This feature makes this shoe one of the best shoes to wear after knee replacement.
Now coming towards the midsole, it is completely spread in the shoe from heel to toe. Also, there is a specific cushion on the heel side to give more protection from jumps. But, it is not that this cushion is only on the heel side.
The innersole is completely cushioned and it provides friction-free wear. And, this dynamic sole has a BIOMOGO feature that is a completely medicated support for feet. The manufacturers have taken the feet protection in responsibility and this medicated sole is proof of that.
The best thing about this shoe is the V-strap. It makes the shoe-wearing experience more easy and quick. You don't have to bend a lot to knot the laces and waste time. The double V-straps fix the shoes in place without tightening them. Also, the chances of feet strain or sudden bends are zero with these straps. Along with them, there is a collar. This collar has a cotton inside and this stuff is comfortable to wear. Also, this collar helps to save the ankle from irritation and rashes when you run.
What to look at when purchasing new shoes after knee replacement? (BUYING GUIDE)
1. Arch Support
Arch support is the support underneath the arch of your foot. As the name suggests, it supports the arch of your foot. It is especially important in sport shoes, as you need to get the right support to avoid injuries and other health problems.
Arch support shoes are important after knee surgery for multiple reasons. These shoes can help support your knee, and from putting excessive pressure on your knee. One should be looking for arch-supported shoes if you have had issues with your knees or ankles.
2. Shock absorption cushioning
Shock absorption is the process by which the body absorbs impact from the ground with each step. The softer the surface, the less you'll feel the impact. and harder surfaces like concrete floors don't absorb many shocks.
Investing in a quality shock absorption shoe can dampen the impact of each strike, leading to the least shock with each move.
3. Switch to lightweight shoes
lightweight shoes are great for people after knee replacements. also, the right size is essential. One should try to have shoes that are one size bigger than the original shoes you have. This will help your feet feel more comfortable and will prevent back and knee pain, which you may feel with lightweight shoes.
Read this article to know more about the average weight of the shoes.
Benefits of wearing lightweight shoes after knee replacement surgery are
Improves balance
 Movement of the foot is not impeded
3. Reduces knee, hip, and back pain
Allows for greater longevity of knee replacement
4. Better Grip
Better Grip shoes are a must after knee replacement surgery. There are a few reasons why. For example, if you want to recover faster the first thing to do is to strengthen the muscles in your leg and foot.
Achieving good balance and stability during the recovery process will be easier. The other benefit is to have the ability to walk and move around easily with confidence. The way you walk is important. It does not have to be fast. Take it slow for now, use a stick or the assistance of a physical therapist. You will be on your way to being pain-free and enjoying a normal life again.
FAQ'S
Q.1 What should I avoid after knee replacement?
The most important thing to avoid after knee replacement is too much activity. You've just had major surgery and it's painful, even with all the pain killers. Exercise is important for everyone but it's even more critical for someone who has just had a knee replacement.
You need to take it easy for the next six weeks. No exercise and no lifting anything heavier than a gallon of milk. After six weeks you will be allowed to put a little weight on your knee and begin some exercises. But don't try to do too much too soon. If you do it will only prolong your recovery time and increase the chance of getting an infection.
Q.2 Can You Wear Heels After Knee Replacement?
It's beneficial to avoid heels after knee replacement for at least 2-4 months. It is because you have to
give complete rest to your knee. After that, you'll be able to wear heels without facing
any difficulty.
Passing the recovery time with patience will give better results and even fasten the recovery process. Taking a risk at
this stage may cause severe damage and long disability. Your doctor will advise the best for how much time it'll require for the complete recovery.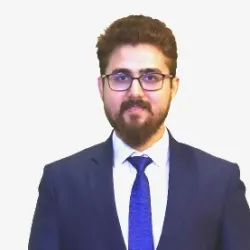 I'm Shafey. An avid runner since 2012. I am one of few people who like doing cardio instead of muscle building. I love spending time on treadmills, tracks, pavements, or any surface rather than exercising with dumbles.
With all those years of experience and spending the whole night reading blogs and researching different concepts of running. Learned a lot about new tips and tricks. In those years tried different running shoes (from $ to $$$).  I got a great knowledge that can be shared with others. I may not be a professional running coach but YES an experienced runner who can guide right to beginners.✌️✌️