Pain or sensation that begins from the spinal cord to the buttocks and goes through each foot is an indication that you are suffering from sciatica. Sciatica is the longest and single nerve in our body. if you are a running fan, Running with sciatica can be a tough task as it takes your whole back. The question is, Will investing in quality running shoes can help in sciatica pain? Yes! it can! Let's have a look at the best running shoes for sciatica pain.
We are not saying only investing in a quality shoe is enough to treat your sciatica pain. stretches, exercise, massage, and medication are all needed to remove it and rehab it from the root.
What is the Connection between Sciatica and Running Shoes?
What the right footwear does is give the foot stability and comfort and care that your foot deserved. If you are wondering what is the connection between my running shoes and Sciatica pain.
The medical reason behind this backache is that the human body's largest and longest nerve (Sciatic nerve) originates at the base of the spinal cord along the back of each leg directly into the foot. That's why the constant wearing of the wrong shoes will give you backache.
Also, Wearing a shoe that is not made for your foot can create awkwardly bad angles while running which can irritate or disturb muscles in the legs and can even lead to degenerative disc disease.
We are not making things ourselves. Studies support the fact uncomfortable shoes can be a factor in sciatica pain. Wearing shoes that don't provide enough arch support or high heels. Also, a flat base can cause this pain.
Best Running Shoes For Sciatica Pain (Shock absorbers + Enough Arch Support)
There are many possible solutions to treat sciatica pain. One thing is for sure, proper footwear is the first step in healing your sciatic nerves. After countless hours of research, we've put together a list of the best sciatic shoes for quick relief.
NOTE: We have not gathered shoes randomly from all over the internet and put them here. But, Each shoe appears on our list only after reading reviews, personal preference. And, a verdict from the shoe owner. let's have a look at the best running shoes for sciatica pain
1. Asics Gel Nimbus 19 Running Shoes
Shoe Specification
| | |
| --- | --- |
| Size | Order half to whole size up |
| Best use | Road |
| Arch support | Neutral |
| Weight | Men 315g | Women 252g |
| Arch type | High arch  |
| Strike | Heel Strike |
Key Features
Asics gel nimbus 19 uses Flytefoam midsole technology that provides better protection, much more cushioning, and responsiveness.
It's very well cushioned, has a good amount of arch support, and is much less in weight than its previous versions.
 The outsole uses AHAR (Asics High-Abrasion Rubber) which makes a shoe durable
Asics Gel Nimbus 19 Review
Asics gel Nimbus has done a lot of changes with its 19 model. The shoe is well cushioned with an additional focus on midsole protection and responsiveness. overall,  Most of the runners were impressed with the comfortable feel, good arch support, and much light in weight, at an affordable price.
It was one of the shoes Asics lovers were waiting to launch. And, the worth deserves its wait. Runners are happy with the visible changes to the upper of the Nimbus 19 from last year's model. The basic design remains the same.
The upper is made from a single piece of jacquard mesh; This can also be referred to as engineered mesh, as there are areas with different fabrics.
On the sides, The mesh is woven more tightly, while it is relatively open over the forefoot. Most of the top has no outer layers. Instead, Asics uses a high-density print on the mesh that gives the shoe its aesthetic depth.
There's a solid piece of plastic on the outside, and this clip wraps around the forefoot. The Nimbus 18 had that too, except the revised counter on 19 is longer on the sides.
Molded windows on the sides reveal reflective elements that do a good job in low light. On the inside of the heel, the mesh lining and cushioned volume foam have been updated. The neck is thicker than the Nimbus 18, and the mesh is also softer. This new heel design grips the foot with a more secure hold than the Nimbus 18.
Why We Like it
They are very durable shoes (recommended for 5k and 10k Runs)
Much breathable shoe
Recommended for running on roads.
Why We Don't Like it
Not recommended for trail running
2. Asics Gel Cumulus 21 Running shoes for Sciatica
Shoe Specification
| | |
| --- | --- |
| Size | True to size |
| Terrain | Road |
| Weight | Men 268g | Women 266g |
| Drop | 10 mm |
| Arch support | Neutral |
| Arch type | High Arch |
Key features
They are stable like ghosts, Pegasus and Wave Rider.
The outsole uses two types of rubber, AHAR, and Durasponge.
Asics Gel Cumulus 21 Review
ASICS is famous for producing quality products that promise to facilitate you in your workout and running. You do not have to sacrifice the comfort, durability, or softness of the insole. The extra cushioning is a feature we all want, and ASICS delivers.
And let's not forget just how cool the shoes look with their distinctive design! You can look classy and have a balanced gait thanks to these amazing shoes that do not upset you in any way.
ASICS has never been shy about putting a name to every single feature you could put in a running shoe. The Cumulus 21 is no different. The following are some of the features for the midsole and outsole of the Cumulus 21.
Rearfoot and Forefoot Gel Cushioning: This is the ASICS staple silicone-based gel for cushioning and shock absorption in their shoes.
The majority of the Gel cushioning is in the heel, towards the lateral side, which makes the Cumulus 21 a great feel for heel-strikers.
Flytefoam and Flytefoam Propel: These are the two cushioning foams that are in the midsole of the Gel-Cumulus 21. They are designed to provide a bounciness and responsive feeling at a lightweight.
This model from Asics delivers enough arch support and has shock-absorbing facilities, making it recommended to wear with sciatica pain.
Why We Like it
Recommended for people with the high arch foot.
These have a stable heel cup.
It gives a feel of running on cotton balls.
Why We Don't Like it
Need to order 1/2 or 1 size up ( A few said )
3.
Gravity Defyer Proven Pain Relief G-Defy Mighty Walk
Gravity Defyer Proven Pain Relief Review
The shoes come with exceptional shock-absorbing features and extremely comfortable insoles. You'll wish to run more kilometers in these. The best part is that the toe box is big enough if someone has wide feet, swollen feet, metatarsal pain, or Morton's neuroma or just needs space to wiggle their toes. These running shoes are a complete package for sciatica pain at an economical price.
Working on these technologies, they convert external shocks into positive energy by distributing the sudden shock evenly throughout your shoes. Because of this fantastic feature, you probably won't even feel any painful pressure on your heels or toes. So this feature reduces foot pain, heel spurs, and knee pain with certainty.
In addition, the inside of the shoes is completely seamless, which is the best quality of shoes for people with extremely sensitive skin. Irritation or rashes.
You will be happy to know that the soft insoles are removable so that you can easily change them if necessary. The front of the shoes is designed with a rocker metatarsal and sole system that minimizes the pain associated with joint problems such as arthritis, itbs, Rheumatism, plantar fasciitis, etc.
Why We Like it
The toe area is roomy.
Recommended for someone who stays 12 hours + on their feet.
Many testers claimed that this shoe helps them with their foot and back injuries.
4. ASICS GEL-Nimbus 20 Running Shoe
Shoe Specification
| | |
| --- | --- |
| Size | True to size |
| Terrain | Road |
| Weight | Men 303g | Women 249g |
| Arch support | Neutral |
| Arch type | High arch |
Key Features
The outsole uses AHAR (ASICS High Abrasion Rubber ), which delivers additional durability on hard surfaces.
The midsole utilizes a gel cushioning system, which acts as a shock absorber and making the shoe comfortable.
The midsole also utilizes flytefoam, which offers responsiveness and a springy ride.
Upper utilizes jacquard-mesh material which offers good ventilation and irritation-free running experience.
Asics Gel Nimbus 20 Review
It is a road running shoe that is ideal for those who have neutral foot movement. Nimbus 20 uses an updated mesh that aims to make the fit more comfortable. It consists of a single piece that is interconnected through a seam in the heel to the upper.
AHAR or ASICS High Abrasion Rubber is integrated into the Asics Gel Nimbus 20 for more durability. This solid component of the shoe is also designed for long-lasting protection.
The Asics Gel Nimbus 20 uses the Forefoot and Rearfoot gel cushioning system. This gel cushioning element is also used in the Asics Nimbus 21. It is a silicone-based gel that acts as a shock absorber and makes each step more comfortable and offers a smoother transition from heel to toe.
Compared to standard EVA foams, this material is 55% lighter. Organic fibers are embedded in the foam. These are essential for taking a gentler and more comfortable stride.
FluidRide technology is used for increased durability and improved cushioning. This unit gives the runners a feeling of ferocity without compromising the light structure of the Asics Gel Nimbus 20,
In the women's models, the shoe has gender-specific cushioning in the forefoot area. It is injected with a top layer of Solyte foam. It offers additional comfort. This material allows the user to feel soft, especially when taking off.
Why We Like it
Recommended for people with high arches.
No blisters after a long day of use.
Solid lockdown
Why We Don't Like it
Less cushioning than its previous models.
5. Saucony Redeemer ISO 2
Shoe Specification
| | |
| --- | --- |
| Size | True to size |
| Terrain | Road |
| Arch support | Stable |
| Weight | Men 240g | women 290g |
| Drop | 8mm |
| Arch type | Low arch |
| Foot Condition | Flat foot |
Saucony Redeemer ISO 2 Review
This shoe meets almost all the requirements for overpronation, Many runners claimed that they find this pair helpful running with overpronation, It has a motion control stable motion control sole with actual support under the inside of the foot (under the arch or lack thereof). The sole is even modeled with a wear pattern for people whose overpronation
Design-wise, they adopt a cleaner and more smooth look that satisfies the tastes of today.
The underfoot cushioning system consists of lightweight, complete length foam, a shock-absorbing upper sole, and a post-middle section that fits the overpronation.
At the top, directly under your feet, there is a full layer of EVERUN. Saucony's most up-to-date compound, similar to Adidas's Boost, is a combination of thousands of miniature fun TPU beds. This layer is delicate but responsive.
The padded sole is created by a standard froth with a very durable average post for strength. The Saucony Redeemer ISO 2 follows standard length measurements. Fits common size choices for runners.
Redeemer ISO 2 uses XT900 carbon rubber, a very durable compound that is placed in the heavily used areas of the sole. Protects the foam unit from wear and tear while providing traction on the surface. This material is also used in the Omni 16 and other popular Saucony shoes. IBR + or Injection Blown Rubber covers the center of the tread.
To protect the foot and offer traction, it can additionally cushion the foot due to its elastic and reactive nature. The TriFlex design consists of a network of grooves that allows the flexibility of the foot and adaptation to the ground.
Why We Like it
Recommended for people with overpronation
A wider heel base
Hard solid uppers surrounding the heel.
Why We Don't Like it
The toe box is a bit small vertical wise
6. Bare Access Arc 4 Trail Running Shoes
Shoe Specifications
| | |
| --- | --- |
| Size | True to size |
| Terrain | Road |
| Heel to toe drop | 0mm |
| Weight | Men 162g / Women 127g |
| Arch Support | Neutral |
| Arch type | High Arch |
Key Features
The outsole utilizes gripping lugs with 2mm depth, which is effective with meet with on-road and off-road.
The Midsole features MBound cushioning technology, which offers bounce-back and shock-absorbing features.
Bare Access 4 uses an upper which is made up of Air mesh and synthetic leather, which makes this unit breathable and makes a shoe comfortable.
Bare Access Arch 4 Reveiw
The Bare Access Arc 4 is a minimalist trail running shoe with a 0mm drop from heel to toe. At 5.8 ounces, it's one of the lightest shoes on our list for best running shoes for sciatica pain. It is available in dark gray, light gray, red, black, and green.
As a minimalist running shoe, it cuts a fine figure in trail races with just enough protection from sharp stones. These minimalist running shoes are comfortable and great on the road. They're not a great choice for lifting workouts.
The Bare Access outsole has grippy studs that are 2mm deep. Stable off-road roads and trails. Flex grooves provide natural freedom of movement, starting at the edge of the metatarsal to the point where the metatarsal bones actually flex.
These grooves are deeper than those in the previous iteration and offer greater efficiency with the Vibram sole technology being one of the most durable on the market. It is made of high-quality material that together provides a durable outer shell that resists abrasion and wears and tear. It's also efficient in traction.
Why We Like it
Wide across the foot.
Roomy toe box.
Extremely Light weight
Why We Don't Like it
Thin sole (sometimes you feel the rocks)
7. Saucony Unisex-Adult Triumph ISO 4 Running Shoe

Shoe Specification
| | |
| --- | --- |
| Size | True to size |
| Terrain | Road |
| Weight | Men 306g / Women 266g |
| Heel to toe drop | 8mm |
| Arch support | Neutral |
| Arch type | High Arch |
Key Features
The complete outsole utilizes XT-900 carbon rubber, which provides traction for most of the surfaces.
The midsole offers EVERUN foam, which offers a great level of cushioning for each step and makes the shoe comfortable.
The upper utilizes engineered mesh (woven cloth), which makes the shoe ventilated. and, allows the air to pass through the foot section.
Saucony Triumph ISO 4 Review
Let's start with the sole and let's work our way up. The sole uses the same rubber material as the previous models, but the design has changed. The previous model used side breaks in the sole to increase flexibility. ISO 4 uses five vertical breaks to provide more lateral flexibility.
Saucony ISO 4 features an EVERUN midsole that creates great energy return and pushes you forward. The upper has been redesigned with a new version of ISOFIT technology that expands and contracts as you run. The sole unit has been completely redesigned.
On the road in light rain/fog and snow/ice, the traction feels a bit muddy. EVERUN continues down the upper sole to create a springy feel that will take you to the next level.
These two EVERUN shifts really work together to ensure a great ride. With a slightly more aggressive but traditional 8mm offset with 28mm under the heel, enough is cushioning for marathons with no issues.
Why We Like it
Recommended for people with high arches.
Roomy toe box and great cushioning.
have a thick sole & a soft stretchy upper
Why We Don't Like it
lacks the forefoot cushion
---
8. O
rthofeet Proven Heel and Foot Pain Relief. – Best Shoe for Sciatica pain.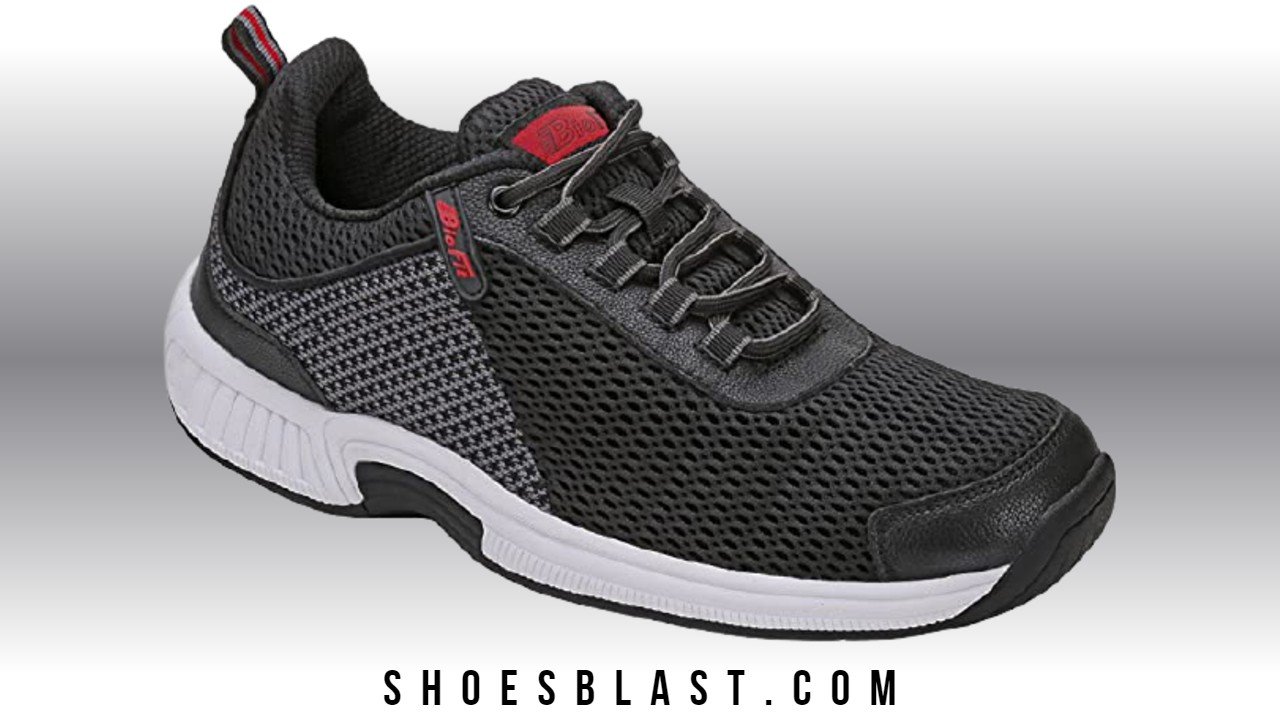 Review
A one-stop solution to all of your foot problems and a cure for your back pain. The shoes are specially designed for people who suffer from almost any kind of bone deformity. It is really a sable motion control shoe that gives your lower back and leg support to walk/run more. Also, The plus point is they look just like other running shoes.
Whether you have a big toe or not, you can always hope that these running shoes will adapt to your needs. Testers said the shoe reduced the pain they had previously while running or towards the end of the day.
This pair from orthofeet comes with orthotics that make your feet feel like you are stepping on a cushion. After getting this pair you might Forget your worries about not being able to walk, sciatica can make it difficult for you to walk. Still, with the right shoe, it's not impossible.
The middle is a breathable layer that provides extra cushioning, and the bottom layer goes from the metatarsus to the heel with a trampoline-like pad in the back for heel pain relief.
All of this rests on an ergonomic sole that swings to accommodate movement and support the foot. This feature is great for comfort and pain relief but has the side effect of making the shoes look less stylish. Some models seem downright bulky. There's a little compromise when it comes to comfort and aesthetics.
---
9. Orthofeet Proven Plantar Fasciitis and Foot Pain Relief.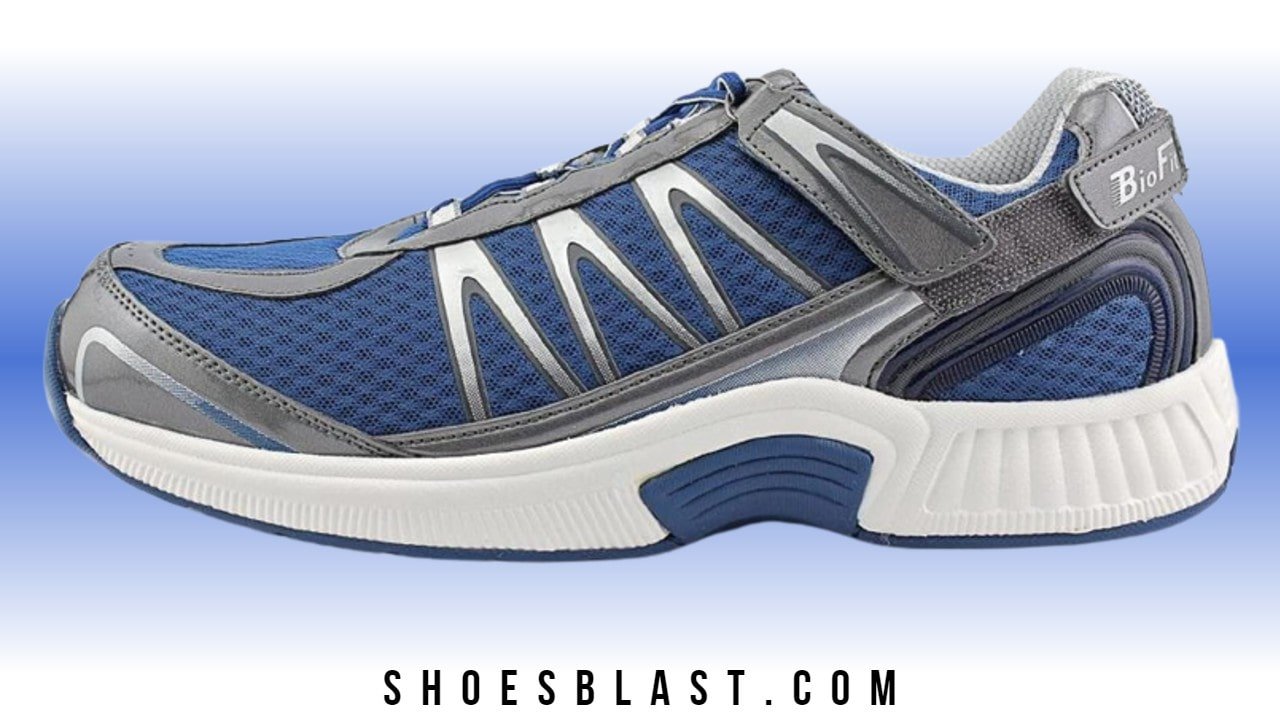 Review
This model from Orhtofeet receives tons of applause for relieving lower back and leg pain.
It has advanced features which improve foot comfort on the road. The unique top has a slip-on lace closure with Velcro straps for an adjustable fit. Molded orthopedic footbed with arch support and a deep heel cup. This design can help improve body alignment, posture, and stability during walks or other daily activities.
The lightweight upper is also breathable and non-slip seamless design with soft lining and additional foam padding provides extra comfort and protection.
Orthofeet Sprint men's shoes are ideal for running, walking, or exercising in the gym for various foot conditions such as heel pain, plantar fasciitis, diabetic foot, arthritis, and ankle pain.
The OrthoFeet orthopedic comfort shoe line uses the patented OrthoCushion system with a three-layer composite orthodontic insole providing additional cushioning and the lower layer goes from the metatarsus to the heel with a trampoline-like cushion in the back to relieve heel pain.
All of this rests on an ergonomic sole that swings to absorb movement and support the foot.
Why We Like it
Well padded and a lightweight shoe.
They are well-made and durable.
Recommended by doctors for lower back and knee pain
How to Pick the Best Running Shoes For Sciatica Pain.
Sciatic pain is caused by irritation, swelling, entrapment, or compression of a nerve in the lower back. The most common cause is a herniated disc, which puts pressure on the nerve root. Most people with sciatica get better on their own over time. and self-treatments and here are some of the points you should consider before buying shoes for your pain
Importance Of Soles:
The sole is the most important part of any shoe. Developed to protect the foot, it plays an important role in the comfort and wearability of the shoe.
Rubber soles
The rubber soles are durable, waterproof, and flexible. They are ideal for everyday use and for sports activities like running or soccer!
Lugged soles
The sole is light, they are great for casual wear due to their water repellent properties, such as on rainy days in the city, but are not recommended for jogging with them outdoors unless you want sore arches for their minimal support.
Cork Soles
Ideal for prolonged wear Cork soles are one end of the spectrum. This shoe works best when worn indoors, where you don't have to worry about slippery floors that cause falls.
Support:
When buying sciatica relief shoes, don't forget about support as it relieves the pressure built up and relieves pain, the best sciatica shoes not only absorb shocks but also distribute them evenly throughout the body. In the hips and sciatic nerve, you don't have to deal with pain and pressure. Shoes that give you the support you need will give you the relief you are looking for.
Fit:
Shoes are often the toughest items to buy online, especially if you have feet that fit more than one size. If your shoes aren't half the size, figuring out which one is best for you can be difficult. Foot type and style preferences. It is important to not only read previous customer reviews but also to measure the length and width of your bare feet. Then compare these numbers with the size charts before ordering these new shoes.
Arch Support:
Arch support is one of the most important things to consider when purchasing a new pair of shoes. If you have a medium foot, any shoe is usually enough; However, if your feet are higher or lower than normal, it is best to buy accordingly. Ignoring arch supports can result in extreme pain and even injury, leading some people to donate their entire closet full of fashion designer shoes because they couldn't walk comfortably without them. It may seem like common sense, but make sure you are aware of it.
FAQ's
Can running shoes cause sciatica?
high-heeled shoes shift your body weight and thereby flexing your hips, putting strain on the muscles and vertebrae in your lower back near the nerve. Arch support can also trigger sciatica.
Can shoes relieve sciatica?
The answer is yes, the footrest on custom orthotics is designed to cushion the heel, toe, and foot, and to relieve discomfort and pain caused by lower back pain, sciatica, poor posture, or an unbalanced gait.
Why does my sciatic nerve hurt after I run?
Perhaps the most common cause of sciatica is a herniated disc, which irritates the nerve. Similarly, disc degeneration can also inflame the nerve at its root, causing pain and discomfort. Piriformis syndrome is another common cause in runners.
What Precautions Should I Take To Relieve Sciatic Nerve Pain?
Posture retention is critical when it comes to sciatica. Consider how they bend their backs to lift a weight, run, change clothes, or do other chores and correct their posture. Likewise, exercising regularly to relax your spine and stomach can help relieve sciatic pain.
What are the factors that contribute to a sciatic nerve flare?
The sciatic nerve is the longest in our body. The space between the vertebrae or a herniated disc can make a person feel a sharp pain in the back that radiates to the buttocks.
The Doctor's Pragmatism!
Avoid certain postures, foods like processed foods, red meat, and some exercises that can irritate the nerves. Research shows that dieting has a dramatic impact on the development of sciatica. Hence, it is important to avoid saturated fats when a person has sciatica.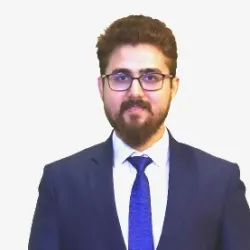 I'm Shafey. An avid runner since 2012. I am one of few people who like doing cardio instead of muscle building. I love spending time on treadmills, tracks, pavements, or any surface rather than exercising with dumbles.
With all those years of experience and spending the whole night reading blogs and researching different concepts of running. Learned a lot about new tips and tricks. In those years tried different running shoes (from $ to $$$).  I got a great knowledge that can be shared with others. I may not be a professional running coach but YES an experienced runner who can guide right to beginners.✌️✌️