Look at the best running shoes for lower back and hip pain.
[Last Updated on March- 28-2023]
Whether you are a casual runner or a marathon finisher, you might have experienced pain in the lower back. This can occur due to the wrong posture, a sudden increase in the pace or distance, or running without warming up. Another reason could be obesity, previous injuries, or the aging factor.
No matter what is causing the lower back pain, seeking help must be the first action if the symptoms are not under control with regular rest and home remedies.
In a Hurry? Look at the Top Three
However, should you run with lower back pain or not is a thing to search online as each body have a different story. It can help in minimizing the symptoms by strengthening the core muscles or might make it worse through additional stress.
it may show positive results by reinforcing the key muscles and strengthening the core which improves spinal health. On the other hand, it might show results in negative as the body will have to face 3x more pressure than usual. consult with ortheos and physios before you jump on the track is what we can suggest.
What are the best running shoes for the lower back can do?
To proceed further, one essential thing to clear is shoes are a part of a recovery plan with proper diet, rest, and massage. Shoes alone rarely fix medical injuries.
These are the best running shoes for lower back pain as they contain the most orthopedic features that the podiatrist recommends in the shoe.
Also, the list has been finalized after the verdict from the show owner who appreciates it after utilizing it with lower back pain. With each review, we have mentioned the reasons for being the best for lower back pain.
They are all high in cushioning for max comfort and shock absorption, arch support to reduce the pain, stability to align the whole body in the same rhythm, and a high stack height for more cushioning under the heel.
8 Best Running shoes for lower back pain ( shock absorbers + Arch supported)
Most shoes appear on the list after a verdict from the shoe owner, Most brands cross centuries in the market that runners trust already.
A few of them might take a few runs to break in so deciding to judge them and look for a return option might be a quick decision. We suggest you give them some time as cushioning takes time to set in place but if you are not comfortable even after a break-in, return them and consult your podiatrist.
Let's look at the best running shoes for lower back pain in 2022.
1. Brooks Ghost 13 – Best for heavyweight
Our Verdict
If you don't want to go deep into the technicalities of running shoes and want natural, most comfortable shoes, pick this model.
It offers a walking-on-cloud experience, is fully padded from the inside, and offers couch-feel comfort that feels luxurious.
who should buy it
The model is an ideal choice for runners seeking comfort for any reason. It offers soft and springy foam that makes the landing softer. The model is a do-it-all running shoe, meaning used for max-needs and it is ready for it.
It will be ideal to utilize this pair for your daily walk/jog and easy-paced running.
Besides running, Brooks's ghost is famous among nurses and other workers who spend the most time standing.
The ghost 13 has all the recommended features that are needed for heavyweight runners, those prone to injuries runners, and who need comfort for 8 to 12 hours of daily standing.
who should not buy them
you should not buy these if you are looking for a lightweight fast shoes.
These are not ideal for you if you need stability due to overpronation. These are not stable shoes.
why do we like it
Brooks ghost 13 fits right as the lower back pain shoe as it offers all the recommended orthopedic shoe features.
Arch support, moderate heel height, superior cushioning, shock absorption, medium-soft foam, and a few others are required when running with hip or lower back pain. and, it has all of them.
Check price
Why We Like it
Forefoot cushioning
Versatile shoes
Secure lockdown.
Why We Don't Like it
A bit heavy and expensive
---
2. ASICS Gel Nimbus 22 – Best Shock absorbers
Best for
The gel nimbus 22 is best for runners looking for max cushioning yet lightweight running shoes for everyday medium to severe running at an easy pace.
As they feel light in weight, utilizing these for fast pace running won't be a wrong choice, and they can handle easy to fast pace running smoothly. But, the fact is that they are built to cover more miles instead of speed.
Why its best
Overall, The model has a touch of each feature that needs to be in shoes for back pain. Let's count it one by one.
Your back pain shoes need to be high in cushioned yet feel lighter in weight. They are all padded from the inside and at 9 ounces.
The next thing is shock absorption, and they are loaded with gel in the heel. A higher drop in the heel focuses the heel on striking where the gel is prepared to minimize the fall impact.
Arch support is present to balance out the body weight. Besides arch support, the heel cup offers stability that aligns the whole foot and back to move with the same momentum.
At last, The sole needs to be between soft and very rigid, and they are the same. They are firm yet comfortable and bouncy for miles and miles and long hours comfort for standing.
What's get Better
The more and better gel in the heel is found in the whole heel, making the shoe more shock absorbing.
More and Deeper grooves (horizontal flex grooves) in the outsole for better grip and durability that feels smooth.
What gets bad
The additional amount of gel and cushioning in the midsole makes it heavier when compared to previous versions. (about 10 to 15 grams higher for a size 9)
Check price
Why We Like it
Needed arch support
The Upper hugs the feet well
Open toe box
---
3. New Balance 1080v11 – Best For Long runs
Our Verdict
The new balance 1080v11 is following the same pattern as their prior models. A few changes made in the upper make it more breathable, and the midsole makes it more comfortable.
One thing that makes us flat about this model is its attention-grabbing design. It's perfect for those who wish for cute orthopedic shoes for back pain.
Best for
They are highly cushioned, offer needed support, and have a neutral design that works for most runners.
NB 1080 v11 is ideal for most runs and ready for multiple tracks. One who runs casually to marathon finishers can benefit from it.
The model hits a sweet spot between comfort and firmness, satisfying the needs variety of runners. Ideally, It is a choice for distance runners who want a firm yet responsive shoe for energy return.
Not Ideal for
The model will not be the ideal choice if the support and speed are your top concerns. There is no technology deduct for supinating and pronating runners as it is a neutral shoe.
Similarly, as they are a bit heavyweight due to the high amount of cushioning, the firm ride doesn't perform the job that sprint runners look for.
Why are the best running shoes for hip pain
The model is soothing for runners experiencing lower back and hip pain for most reasons. Right from the first wear, It offers needed arch support, heel support, and a plush feel that is calm for achy backs.
Besides comfort, the shoe's ability to absorb running shocks can reduce the impact of footfall. It helps in dissolving the effect within the shoes before it travels to the joints.
For shock absorption, the New balance 1080v11 has utilized an updated foam that is more cushiony and better in shock absorption than the previous version.
Lastly, A heel has more cushioned (8mm drop) than the forefoot making it suitable for heel strikers. Also, it allows the foot to land gradually instead of hitting abruptly.
Check price
Why We Like it
Absorbs a lot of shocks
Best for long hours of standing
Needed arch support
Why We Don't Like it
absorbs water and takes long to dry
---
4. Brooks Adrenaline GTS 21 – Best Stability
Our Verdict
The Adrenaline GTS 21 is a "Go-to-shoe." series, meaning a single shoe for most occasions. Adrenaline is a success of the brand as it reaches the second decade with a loyal fan base.
Adrenaline follows the same pattern that started 20 years ago, but it gets softer, and smoother, and increases stability with each version.
Best for
The model offers the right features to cover most miles on various tracks. It offers a firm yet comfortable and bouncy ride that meets marathon racers' needs and is an excellent pick for those who run for fun.
The pace is not the issue for them, and you'll be able to pick if you wish to. But, the fact is you'll enjoy slow runs more than sprints as this model target marathon trainers.
If stability and comfort are your top concerns, grab them!
why its best for lower back pain?
The model offers a GuideRails system that naturally aligns ankles, knees, and hips, gives complete control over the movement, and offers needed lower back support.
Also, It offers arch support that balances out the weight of the landing instead of striking hectically.
A higher drop of 12 mm forces you to land on your heel, and additional padding on the heel is ready to take the pressure of each step, making it convenient to run with lower back and hip pain.
Size guide
The model stays true to size but offers a snug fit. The wearers stated this as it stays true from the lengthwise but is restricted from the side. They advised getting a half-size up when ordering.
It requires a slight break-in period of a few hours, and it'll feel comfy.
The model is available in sizes 7 to 14 with a half size in between. Each size is available in 4 widths, including standard, narrow, wide, and extra-wide.
Why We Like it
GuideRails support the feet, knees, and hips.
Comfort for the whole day
Secure fit
Why We Don't Like it
12 mm heel height feels higher
The sole is thinner than previous models
---
5. HOKA ONE ONE BONDI 7 – Most Cushonined.
Our verdict
Hoka is a synonym for premium cushioning, The only brand that knows the real meaning of "walking on cloud experience". If max cushioning is your concern grab them.
However, great cushioning reflects on the shoe weight and it's only the downside of this model otherwise we find many things in plus.
Best for
The model is an ideal choice for daily walking and jogging and easy-paced running. A daily trainer can also allow you to pick a pace if you wish and provide firmer support for half to full marathons.
Some reviewers claim its midsole to be soft, and others stated it offers a firmer ride that confuses most buyers. But after digging deep down a bit, it is concluded that it gets firmer in the winter session and soft in the warmer climates.
Best shoes for back pain
The model receives full marks in lockdown. It offers a secure fit after finding the perfect spot in the lacing. The heel collar and the broad tongue keep the foot locked without irritating the Achilles.
The cushioning absorbs the needed amount of shocks and delivers a pain-free ride. One reviewer claimed the model was "a day spa for your feet."
The needed amount of arch support, moderate heel height, and great support are what you need for back pain.
Size guide
The model is narrow from the sides that feel snug to most runners. Order the wide size to get the proper fit, and it'll allow more space in the shoes, allowing you to have the most benefits of this model.
Why We Like it
Needed arch support
Stable ride
Durable outsole
---
6. ASICS Gel contend 7 – Best Cute Looking
Our Verdict
Asics gel content seven has a super cute design, best for runners who want to look cool during runs; under 100 running shoes for back pain.
Who should buy it
The model is best for basic runners who want wants simple yet comfortable running shoes for most basic needs. They are not advanced in technology yet offer perfect features for daily walks, jogs, and similar needs.
They are not highly cushioned for long-distance running but enough for 5ks to 10ks. in fact, an option to consider who just started running or running casually.
If we judge them price-wise, we pay more than we get.
It is also best for runners who want the same shoe for cross-training, HIIT, and even weight-lifting.
Who should not buy it
As mentioned above, these are best for basic needs. if you are planning to run for longer miles, don't get these.
Why it is best for lower back pain
The simple shoes offer a reliable feature to continue walking sessions with mild back pain.
First of all, AMPLIFOAM in the midsole with inner padding offers comfort; The gel in the heel reduces the impact of continuous foot strikes.
The heel cup and padded heel collar offer great lockdown and minor stability that align the leg, hip, and back to move in the same direction.
Arch support is noticeable to balance out the body's weight.
What's get better
Now, it's able to manage overweight runners. With the previous version, it was not able to manage excessive weight over 300+lbs but this one handles it effectively.
Also, the Breathing mesh on the outer part of the shoes is too wide and destroyed with time on the 6th model, while the 7th model has addressed that by making the mesh narrow and tough.
What's get bad
Most of the shoe is the same but some runners noticed less padding in the contend 7 than it was in the 6.
Size guide
The model stays true to size but feels a bit restricted even after the break-in period. As runners, we all like to have a bit of space in the shoe
to avoid blisters. Also, a shoe must have this much space to wear thicker socks or custom orthotics.
Our suggestion is to order a half size up to meet the custom fit. But, you might also have to research on your own to decide which to order.
Why We Like it
Great for the money
Comfortable and stylish
Versatile running shoe
Why We Don't Like it
not as wide as the previous models
---
7. ASICS Gel Cumulus 21 – Best comfort + Stable
Our verdict
The gel cumulus offers the right features to continue running sessions with an aching back.
The gel in the name refers to gel in the heel for a smooth landing, whereas "cumulus" is referred to as "cumulus cloud", offering cloud feel comfort despite the distance.
Who should buy it
Ideally, Gel Cumulus 21 is a neutral running shoe meaning it is not meant for pronation or supination. However, a lot of testers said it helped with their pronation.
However, if you are searching for a daily comfortable neutral trainer that can manage variation in speed, the cumulus 21 is a must option to consider. It is best for long, slow runs.
The outsole offers blown AHAR that feels soft, and ideal for most flat and unbalanced terrain, including roads, treadmills, concrete, asphalt, and cinder trail.
why its Best for lower back pain
The beveled heel design allows the foot to land gradually instead of falling with full pressure, doing its best in reducing the impact and a heaven feature for heel striker runners.
A moderate height is recommended for back pain, and it has a heel height of 10mm which means more heels is more cushioned than the forefoot.
The gel in the heel and the forefoot also participates in shock absorption, ensuring the knees, hips, and spine get the least load.
They are best for neutral runners yet offer features that offer stability allowing the legs and back to move in the same rhythm, ensuring have you more control over your body.
What to Consider
Most of the runners had issues with the size. They were too small compared to normal shoe sizes. so order a half-size larger than normal.
Why We Like it
The gel in forefoot and heel.
Stable heel counter.
cushioned yet responsive.
---
8. Saucony Cohesion 13 – Best for Walking
Our Verdict
Saucony Cohesion 13 is a smart move for budget-conscious runners in the era of carbon plate over 200 running shoes.
They are not the most stable running shoes neither for trail and hiking uses but a simple yet effective and comfortable running season.
Best for
The cohesion 13 is a neutral running shoe that is perfect for daily walking/jog and running and for full-day comfort. They are simply low in technology yet max-cushioned shoes that do more than what it's built for.
If you are looking for a daily walk, grab them.  They last 3 to 4 months on taking 10,000 steps a day but if you run less than that so they can go up to a year.
They feel soft with great support from the first wear, which is great for anything but perfect for nothing, meaning a versatile model that can be taken out for most needs. It can handle tempo yet easy-paced runs.
Best for lower back and hip pain.
These affordable running shoes have the features like arch support, higher drop, max-cushioning, and a secure lockdown that one strives to achieve for protective back and feet support.
By their look, they just look like high-end running shoes. One reviewer describes the model with: "If you want to have a touch of premium running shoes without spending its price", try cohesion 13.
What's New
Most of the things are the same with cohesion 13 as it was in 12. The major change is in midsole foam being switched from Versafoam to Versarun. This change makes the shoe a little lighter (about 10 to 15 grams light). Also, Versarun is responsive and has the durability required to hold up to a variety of activities.
What to Consider
These running shoes feel a bit stiff at first and you think you made a wrong choice but it gets better and smooth with each run.  Also, the model has a limited width option so if you have extra wide feet, they don't have a size for you. Most runners claimed that with everyday walking and normal usage, they last only 10 to 12 months. But, I think its a fair deal according to the price we are paying for it. Nothing like other expensive models that last only 2-3 months. See how long running shoes last.
Why We Like it
Good a round shoe.
Heel cushioning.
Secure lockdown
Why We Don't Like it
Not for long distance running.
---
How to buy the best running shoes for lower back and hip pain (BUYING GUIDE)
To meet the desired shoe, you must aware of your requirements. Many shoes claim them best for lower back and knee pain but it might make or break the game, who knows?
The fact is Most running shoes have orthopedic features compared to other shoes as they are made for strict usage. Besides that look for these points and most chances are that you'll get the best running shoes for lower back pain.
 1. Stack height
Stack height is the measurement of the difference in height between the footbed and the heel of the shoe. It is measured in millimeters, and it can vary quite a lot between shoe manufacturers.
Shoes with a lower stack height are considered to be more minimalist, as they offer less impact protection and are often more lightweight. Shoes with a higher stack height are generally considered more protective, as they offer more impact protection, have firmer cushioning, and are often heavier.
2. Cushioning and Shock Absorption
The cushioning in shoes is a material that absorbs shock and returns energy to reduce the pressure on the runner's feet.
Generally, the cushioning material contains polymer and air, and it is molded into the midsole of the shoes.
For example, the more cushioning material there is, the more energy is stored and the more responsive the running shoes will be. However, the energy will decrease with time, until the running shoes become
In addition, the type of cushioning material affects the responsiveness and longevity of the running shoes. Air cushioning tends to be responsive and provides better shock absorption.
3. Arch support
It refers to the extra padding towards the arch of the foot in running shoes, or the lack thereof. Proper cushioning on the arches can help alleviate uncomfortable pressure points, especially for those who need more support and stability.
Minor rubber on the arch can make a big move by balancing the body with each step, easing in lower back and knee pain when running.
4. The Right fit
isn't it an obvious thing? Yes! the right fit is the most obvious requirement when purchasing shoes. But, it gets essential when looking for back pain running shoes. Look for open-toe box running shoes that have more space in the toe box after the right fit.
---
FAQ's
Why Can You Feel Lower Back Pain While Running
As a repetitive activity, running involves back-to-back stress over your whole body; particularly on all vital joints and major groups of muscles.
It is a sort of activity that keeps transferring the ground reaction power from the feet to straight up through the lower back and vertebrae, simultaneously bearing the weight of the whole upper body.
Sometimes when you are hyper-motivated, you don't look at the watch and lapse and go for longer sessions. It obviously sounds efficient but this can worsen the negligible lower backache into a terrible pain throughout your days and nights. And if importance is not given to this pain in earlier stages and keeps continuing the athletic activities, this can also trigger other musculoskeletal disorders and can lead to additional types of pain, bringing surrounding joints and muscle deformities altogether.
Q.1 Is it safe to run with lower back pain?
First, get checked out by your doctor. Back pain is a very broad term. It can be caused by simple muscle fatigue or be as serious as a herniated disc, nerved pinched and musculoskeletal disorders. Physiotherapy is most helpful for back pain in most cases, and limiting physical activity isn't always the best idea. A gradual restoration of the full range of motion would be a better approach.
It might be possible that running has nothing to do with your backache or can be your biggest culprit. Try walking out and if you are having pain while walking then it'll be while running.
If your low back pain is from an injury, then I would say don't run on it. Wait until it is fully healed. When you run, you put your body weight on the injured hip joint and that is not good for healing.
Start slow and don't overtrain yourself.
If the pain is from other reasons like muscle tightness, then I would suggest you go to a physical therapist. A physical therapist can assess the situation and help you to decide if you can run on it.
Q.2 How do I prevent lower back pain when running?
Lower back pain is very common among runners. It is caused by a number of issues. The most common issue is weak core muscles, which make the spine unstable. That's why it's very important for a runner to strengthen his or her core. The core muscles include the lower back, abdominals, and hips. While running, the core muscles naturally flex and become triangular, which makes the spine stable. Also, it's important to look for shoes that have good arch support and shock absorption.
Q.3 How many days rest for lower back pain?
There is no standard answer to this question. It depends on the severity of the pain. The first step is to consult with a doctor. If the pain is mild and due to an injury or strain, then it will get better with time.
If the pain is severe enough to interfere with normal activities, then you should get the right treatment. The doctor will test your back and make sure there is no nerve damage.
He may order some X-rays to rule out any fractures or other medical issues. Depending on the diagnosis, he may prescribe painkillers and rest, or send you to a physical therapist. So the answer to this question really depends on the severity of your pain!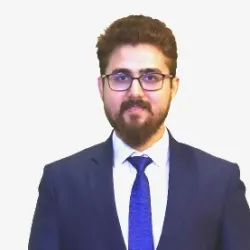 I'm Shafey. An avid runner since 2012. I am one of few people who like doing cardio instead of muscle building. I love spending time on treadmills, tracks, pavements, or any surface rather than exercising with dumbles.
With all those years of experience and spending the whole night reading blogs and researching different concepts of running. Learned a lot about new tips and tricks. In those years tried different running shoes (from $ to $$$).  I got a great knowledge that can be shared with others. I may not be a professional running coach but YES an experienced runner who can guide right to beginners.✌️✌️