The best running shoes for bad ankles depend on the type of ankle pain you have.
However, podiatrists define 4 types where of ankle pain where having shoes can help in reducing symptoms. If you have arthritis in your ankle, unstable ankles, because of high arches,  and overpronated (flat) foot. These are some conditions where having specific shoes for your ankle pain can contribute to eliminating symptoms.
However, shoes might not be the primary focus when treating any medical disorder. It is rare that shoes alone treat medical disorders. It is a part of an overall treatment with rehabilitation exercises, stretches, arch support, and proper rest.
See 3 Common ankle running injuries and their treatments
Can Shoes Help With Weak Ankles?
No matter what causes you weak ankles, After surgery, bad joints? or other conditions. but, One thing is for sure. It stops you to enjoy your running sessions. The stiff, painful muscles make the walking hard so running is not bearable with them.
If you are a runner or someone who workout regularly will try any way possible to cope up with these injuries. Unfortunately, there is no tool that can eliminate your ankle injury. However, with the right shoes, It can provide the ankle support that they need without negatively impacting the ride.
Below we have suggested some specific running shoes for ankle pain, they are recommended by doctors and running experts after running 50 miles in them. But, if you don't feel extra support or relief after a few runs, we recommend you stop and consult your doctor or podiatrist around you
6 Best Running Shoes For Bad Ankles 
NOTE: We have not gathered shoes randomly from all over the internet and put them here. Each shoe appears on our list only after reading reviews, personal preference. And, a verdict from the shoe owner. let's have a look at the best running shoes for bad ankles.
1. New balance 1080 V10 Running Shoe – Best for Unstable Ankles
Shoe Specification
| | |
| --- | --- |
| Size | True to size |
| Terrain | Road |
| Weight | Men 269g | Women 238g |
| Arch support | Neutral |
| Arch type | High Arch |
Key Features:
Upper: The upper is made of a soft, stretchy knit called Hypoknitis, which allows great movement and flex and keeps feet cool and dry.
Midsole: The most appreciated material of 1080 is its Fresh Foam X Midsole, which offers the same feel as EVA but is less stiff and more breathable.
Outsole: The outsole is designed for running long distances on roads, pavements, treadmills, as well as HIIT And as cross-trainers.
New balance 1080 V10 Running Shoe Review
The reason we have listed these shoes as the best shoe for ankle stability is its cushioned from the inside and firmer from the outside. It'll help in preventing the ankle from going over. Also, the heel counter locks the heels really well without irritating the Achilles.
If you have ankle pain due to an unstable ankle. We'll recommend you to try this new model from the new balance. It can give you a good ride with better ankle support than other shoes. It has a heel-to-foot drop of 8mm, which means it is designed for heel strikes rather than a midfoot striker.
However, The New Balance 1080v10 is aesthetically pleasing, It has an eye-catchy design. It has a wide toe box and the ability to stretch more if you have really wide feet. And, fit true to size for most of the runners. A wider toe box making it convenient to wear if you have morton's neuroma or ball of foot pain.
It offers a good shock absorbing and bounce back from its cushioned midsole. So, if you are planning to run longer pavement, roads. This is a good deal for you. It is also categorized as a long-distance running shoe and receives a huge number of applause from runners for this category.
Comparatively to its previous version, It seems a bit lighter (about 1-ounce lighter) than 1080 v9 but has no compromise in the cushioning. Also, Midsole swapped from Fresh Foam to Fresh Foam X. This makes shoes durable and gives a feel of running on marshmallows.

2.
Brooks Addiction 14 – Best Motion Control
Shoe Specification
| | |
| --- | --- |
| Size | True to size |
| Surface | Road, Light trail, Treadmill |
| Weight | Men 357g | Women 323g |
| Arch type | Low Arch |
| Pronation | Severe overpronation |
Key Features
Upper: The upper has utilized engineered mesh that feels like woven cloth, which provides a non-irritating covering. Holes in the upper provide better ventilation and let the pair dry and cool.
Midsole: It offers BioMoGo DNA foam cushioning which provides the right amount of support for most of the terrain.
Outsole: The strong plus of this shoe is its durable outsole which is made of HRP plus rubber material. It makes a shoe durable and protects the midsole. There is no wear in tear seems to even after 100 miles.
Brooks Addiction 14 Review
Our best pick for running shoes with flat feet and ankle pain is brooks Addiction 14. Brooks's addiction is with us for nearly 2 decades and improving each year. This 14th from Brooks is making its image for those who pronate excessively.
If your foot is excessively flat, the rolling in of the ankle that occurs in this situation can put an enormous amount of pressure on the ankle. For this condition, We need a running shoe that limits excessive pronation with a good shock absorption if you run on a hard surface.
They are built for road runners but work well for light trails, treadmills, or for your daily walk. Also, can be utilized for HIIT and cross-training. The adjustable cushioning is great for providing arch support and keeps you in comfort.
Slightly heavy than other shoes due to the amount of cushioning in it. The amount of cushioning in it and shock absorbing features from the midsole make it reliable for runners with back pain. It went true to size for most of the runners with no break-in period.
However, A few changes have been made from its previous model. It is actually more lightweight than Brooks 13th. it is obvious to wonder how 14th can be lightweight with 357gas 13th was 377g  for men's version. And, a bit lighter for the women's version. A bit change midsole, which helps in controlling your motion. There is nothing much chance to see in its style. It is kind of looks like the 13th version.
3. Asics GT 2000 9 – Best For Flat Feet
Shoe Specification
| | |
| --- | --- |
| Size | True to size |
| Surface | Road |
| Weight | Men 281g | Women 221g |
| Arch type | Low Arch |
| Drop | 10mm |
| Arch support | Stable |
Key Features
 Asics GT 2k 9 has been re-designed with one-piece mesh construction, Which offers support absolute fit.
The upper has been updated to provide the support that your foot requires to perform a natural running style
FLYTEFOAM + GEL cushioning technology has been used to make it comfortable with longer runs.
Asics GT 2000 9 Review
Asics GT 2000 series have a solid image for fancy-looking all-purpose running shoes.  The GT 2000 9 is continuing that image. It looks and feels great right out of the box.
If you are in search of a durable, stable, road running shoe for daily needs, running 5k, tempo runs. This model from Asics is ready to meet your needs
It's a shoe that fits 99% needs of all the runners. Need to improve pace interval running? Need some comfort with long runs? Casual running, Even as a hiking shoe. This shoe is suitable for that as well! It is ready for everywhere you want your feet to take you.
It went true to size in most cases with enough room in the toe box. Once you find the sweet spot in lacing. It just feels wonderful. And, if you are the one who feels conscious of ankle support, Achilles tightness. don't worry as the heel felt reliable and comfy. It just locks your heels even if your laces are a bit loose or tight.
The upper utilizes a one-piece breathable mesh design which inspires most of the runners as it was not in the previous versions of the GT series. The FLYTEFOAM + GEL adds cushioning throughout the midsole and has a bit more cushioning to the most impact areas.
As we have picked this model as the best running shoe for ankle pain because of its heel section. The gel cushioning is found in the heel areas, which offers a stable ride. Also, The footbed of this unit has been pulled sharply to provide a better step-in feel. There are also gender-specific differences in the forefoot of the footbed to better accommodate the runner.
4. Saucony Cohesion 10 Running Shoe – Best Budget Model
Shoe Specification
| | |
| --- | --- |
| Size | True to size |
| Surface | Road, Light Trail |
| Weight | Men 281g | Women 241g |
| Drop | 12 mm |
| Arch Support | Neutral |
| Arch type | High Arch |
Saucony Cohesion 10 Review
There is so much this shoe offers while being a budget model shoe. This would be great for something who wants to continue running sessions while managing a monthly budget.
The Saucony cohesion is a good option who are looking for beginner-level running shoes, Casual runs. It offers of 12mm drop. This amount of drop is perfect for someone who wants to be comfortable with their day-to-day running sessions.
It offers a secured fit and comes with a standard size that adopts most of the runner's feet easily. The toe box is roomy and offers really secure midfoot feel. As you are looking for something supportive for your ankle so the heel offers enough security and holds your foot at a place really well.
The shoe offers good support, The midsole cushioning absorbs the impact that you get from running on hard terrain. The heel was stable and supportive. It is not designed for motion control shoes but some features contribute to shoe stability. The upper has strategically placed a variety of overlays, mostly focused on the heel which makes this shoe stable.
However, The insole felt flat with minimum arch support. If you are looking shoe for arch support. this might not be one for you.
A major update that a Saucony made with this model is its outsole. It offers an Additional tri-flex system. with this update, It allows to absorb shocks, even more, traction got improved and makes a shoe flexible. A minor con with this outsole is that it slips on wet roads.
5. Mizuno Wave Inspire 17 Running Shoe – Best For Heavy Runners
Shoe Specification
| | |
| --- | --- |
| Size | True to size |
| Terrain | Road |
| Weight | Men 309g | Women 261g |
| Arch type | Low Arch |
| Feet type | Flat feet |
| Arch Support | Stable |
Key Features:
Upper: The upper material offers breathable mesh which provides a good level of comfort.
Midsole: The Midsole utilizes Energy EVA foam technology, which offers spongy cushioning, absorbs shocks, and allows a responsive ride.
Outsole: The outsole utilizes X10 carbon which is ready to face most of the surfaces.
Mizuno Wave Inspire 17 Running Shoe Review
The Mizuno Wave Inspire 17 is built for stability and to run more miles on the road. If you are those who have flat feet and overpronate and wish for a secure and stable ride. This is a good option for you.
It runs true to size with enough room in the toe box. with the previous versions of Mizuno, runners had complaints about their tiny box. But, It has been resolved with this version.
The heel counter locks your feet really well and reduces slips in long runs. The heel part and stability of their outsole inspire us to put these shoes in the category of people who needs more support around their ankles.
It has a great amount of cushioning and is overall responsive, which makes it perfect to use for slick sidewalks. This is an inspiring feature to see us isn't often seen in other stable running pairs.
The outsole of this shoe has designed for overweight runners who need a little something extra on their shoes. It is made up of X10 carbon rubber, which is used by higher-end running shoes as it makes the shoes really durable. You can expect to run hundred of miles without any signs of wear and tear.
However, The upper has been redesigned to make it ventilated. but unfortunately, It still feels hot in the summers. In winters, The upper will give a warm and cozy feeling. but when the sun is on your head, It runs hot.
Overall, The shoe is well recommended for stable runs, and for those who overpronate, flat feet runners, heel strikers, or heavyweight runners, who are looking for additional durability in the outsole.
6.
Saucony Endorphin Shift – Best For Ankle Arthritis
Shoe Specification
| | |
| --- | --- |
| Size | True to size |
| Surface | Road, Light trail, Treadmill |
| Weight | Men 296g | Women 258g |
| Arch Type | High Arch |
| Arch support | Neutral |
Key Features
Upper: The upper of offers engineered mesh, which feels light and passes the air through the foot chamber.
Midsole: The midsole offers EVA blend foam, which is a little firm and offers a noticeable bounce.
Outsole: The outsole utilizes XT-900 rubber for better grip and to absorb shock from high-impact terrain. 
Saucony Endorphin Shift Review
If you are looking for specific shoes for ankle arthritis, They must eliminate the stress on the joint when hitting on hard surfaces. It can be with additional cushioning and a solid outer sole. Also, The forefoot does not tend to bend when you push the front of the shoe. Out of all, We find the Hoka One One series and Saucony endorphin matching this category well. we are reviewing Saucon but you can look for Hokas as well.
The Saucony Endorphin Shift offers speed with a great amount of cushioning for longer and recovery runs. The amount of cushioning in it falls into the heavyweight shoe category. If you don't understand the heavyweight and lightweight shoes, look for how much do running shoes should weigh?
This model from Saucony is suitable for runners with mild overpronation finding something stable, durable, and rocker outsole shoe. It is a budget model shoe comparatively other stable running shoes so don't expect it to smooth as brooks ghost.
To keep the ankle in a place, It utilizes a TPU heel counter which locked your foot and doesn't add weight to the shoes. It does a good job and the heel does not shift during rides.
How To Pick The Best Running Shoes For Bad Ankles ( Complete Buying Guide)
When looking for the best running shoes for bad ankles, There are many features to focus on to ensure you get the right supportive pair for your bad ankles.
With support, Aim for support that provides proper support throughout the shoe, and not just around your ankle. With the soles, Aim for a medium-thick sole for stability even with weak muscles.
These are the keen features that a shoe for bad ankle weak ankle must-have. However, there are other features as well to consider such as:
Aim For High Or Mid Top Shoes Instead of Low Top
The low-top shoes offer a vert amount of ankle support which is not suitable for someone recovering from an ankle injury.
On the other hand, High-top shoes offer a good amount of support around angels and provide stability to the shoes. Study conducted in this manner results that the foot inverts less if the runner is wearing high-top shoes.
Comparatively to the low-top shoes, mid-top shoes offer enough amount of support, comfort, and cushioning without the restriction that comes with high-top ones.
Responsiveness
Whenever you read the word responsiveness with shoes, It means a shoe that can fulfill your most needs. These are the shoes that'll provide support and comfort and stability no matter which terrain you are running on. Asics GT 2000 9 from the list above will be considered as a good responsive shoe.
Everyone's foot is different, Everyone's needs are different, and Not all of them like to run on the same terrain. It doesn't mean we tend to have 10 pairs of shoes. A good running shoe must be capable to handle multiple tasks.
Flexibility
Another factor you need to keep in mind before purchasing the best running shoes for bad ankles is the level of flexibility offered. You want support as you are not allowing the ankles to move. at the same, if running on different terrain, we need some sort of flexibility.
The shoe which offers better flexibility allows the runner to have a better grip when hitting the ground.
Durability
There are many brands that can be trusted for durability. Durability doesn't just refer to the strength of the shoe. But, also your ability to endure the wear and tear and make sure it doesn't collapse in the middle of a session.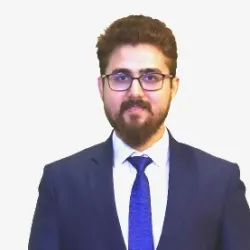 I'm Shafey. An avid runner since 2012. I am one of few people who like doing cardio instead of muscle building. I love spending time on treadmills, tracks, pavements, or any surface rather than exercising with dumbles.
With all those years of experience and spending the whole night reading blogs and researching different concepts of running. Learned a lot about new tips and tricks. In those years tried different running shoes (from $ to $$$).  I got a great knowledge that can be shared with others. I may not be a professional running coach but YES an experienced runner who can guide right to beginners.✌️✌️